When it comes to summer desserts, most people immediately go for the classics (think: strawberry scones, lemon wedges, and peach cobbler). But Mango is officially moving in its competition. Why people have been ignoring mangoes for so long when it comes to summer bread I'll never know, but mango dessert recipes are my new summer favorite. Today, I'm here to convince you that they should be yours, too.
Read on to find out how to pick a ripe mango, the simplest way to cut it, and get ready to drool over 12 mango dessert recipes you'll want to try ASAP.
Featured image of Suruchi Avasthi.
How to choose a ripe mango
When it comes to choosing a good, ripe mango, you have to use three senses: sight, touch and smell. While most ripe mangoes have a brilliant red color, the color alone does not mean they are ripe. To ensure you pick the right mango, not just the prettiest, squeeze it gently. A ripe mango shouldn't be hard, but it should feel like a ripe avocado when you squeeze it.
Finally, smell the stem. The delicious tropical aroma of mango will be present if the fruit is ripe. But, like avocados, you may sometimes end up buying a mango that is not yet ripe, so you can store it in a paper bag at room temperature to speed up the process.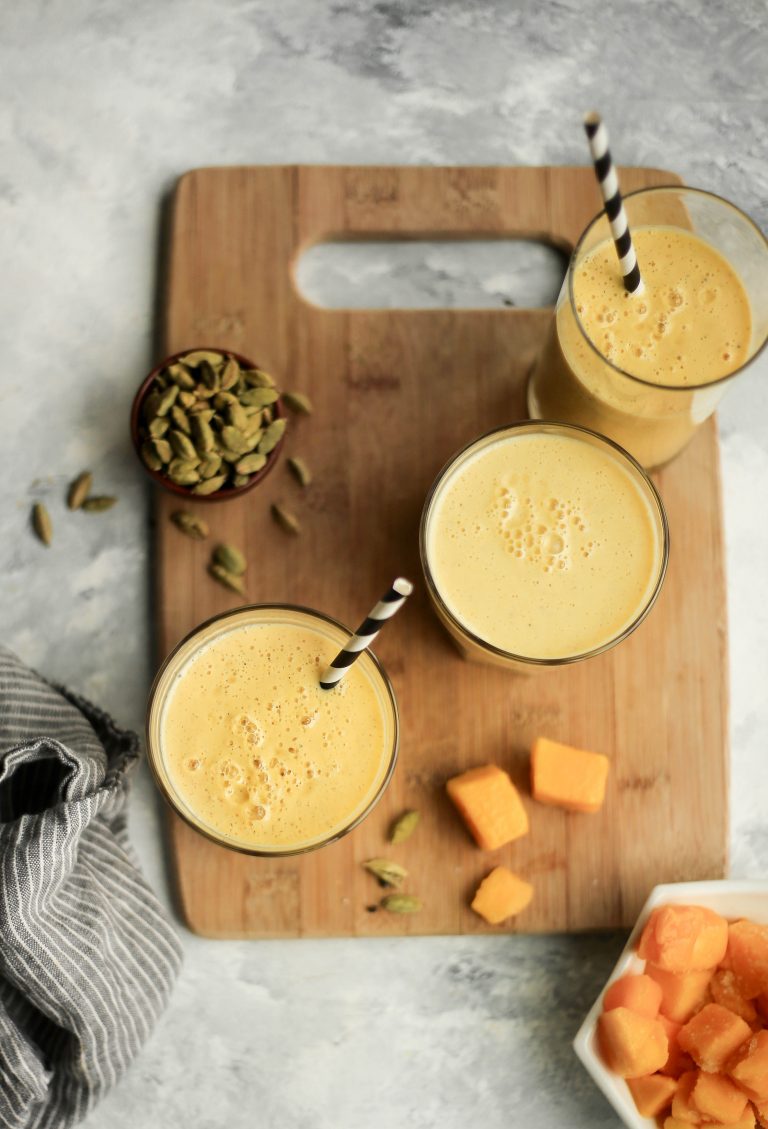 Best way to cut mango for mango dessert recipes
A lot of the following mango dessert recipes use frozen mango that you can buy pre-sliced, but if you have fresh mango that you want to slice yourself, there is an easy dicing mango method that you can master. When slicing the mango, start by separating the fruit from the pit. With the stem side down, imagine the flat oval hole on the inside and cut out both sides. You'll end with two halves and a middle section that includes the hole.
Next, you'll want to make horizontal and vertical cuts in each half, being careful not to cut through the peel. Once done, turn the mango so that the cubed pieces protrude outward and peel each piece or use a knife to cut it. Using the middle section, cut it along the length of the hole and slide off as much of the fruit as possible before cutting the peel.
Keep in mind, if your mango is too soft to cut into clean lines, you can scoop out the fruit and use it in a lot of mango dessert recipes, as it will likely get mixed up anyway.
Check out this video tutorial on cutting mango for a visual demonstration: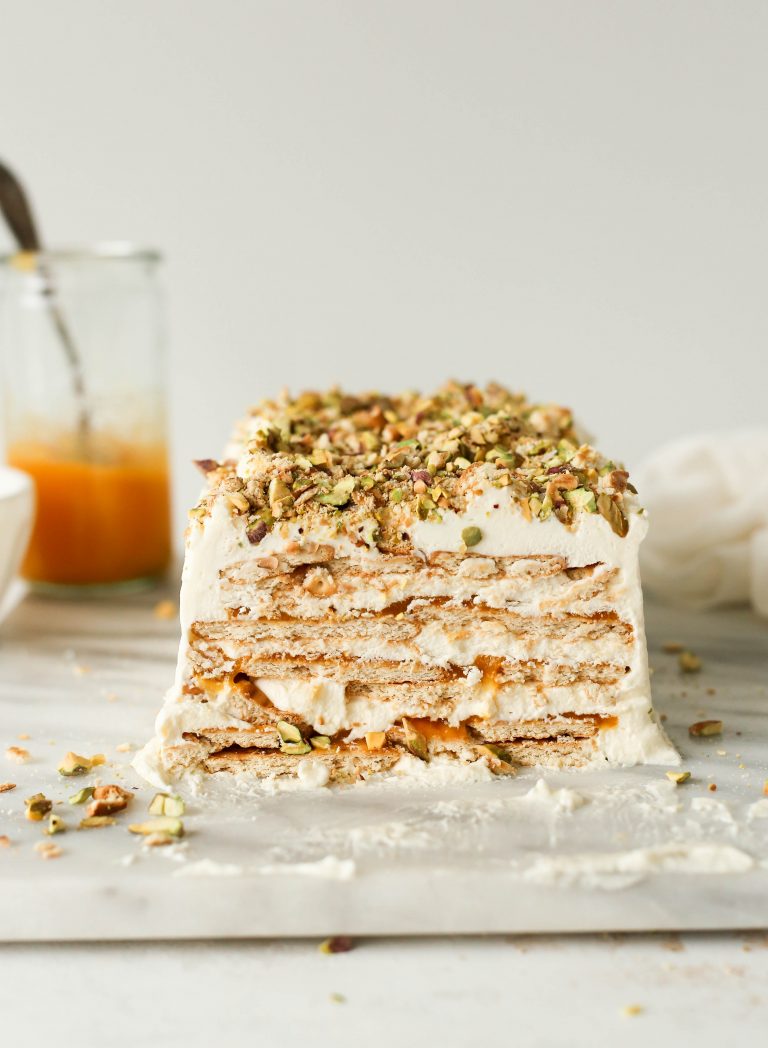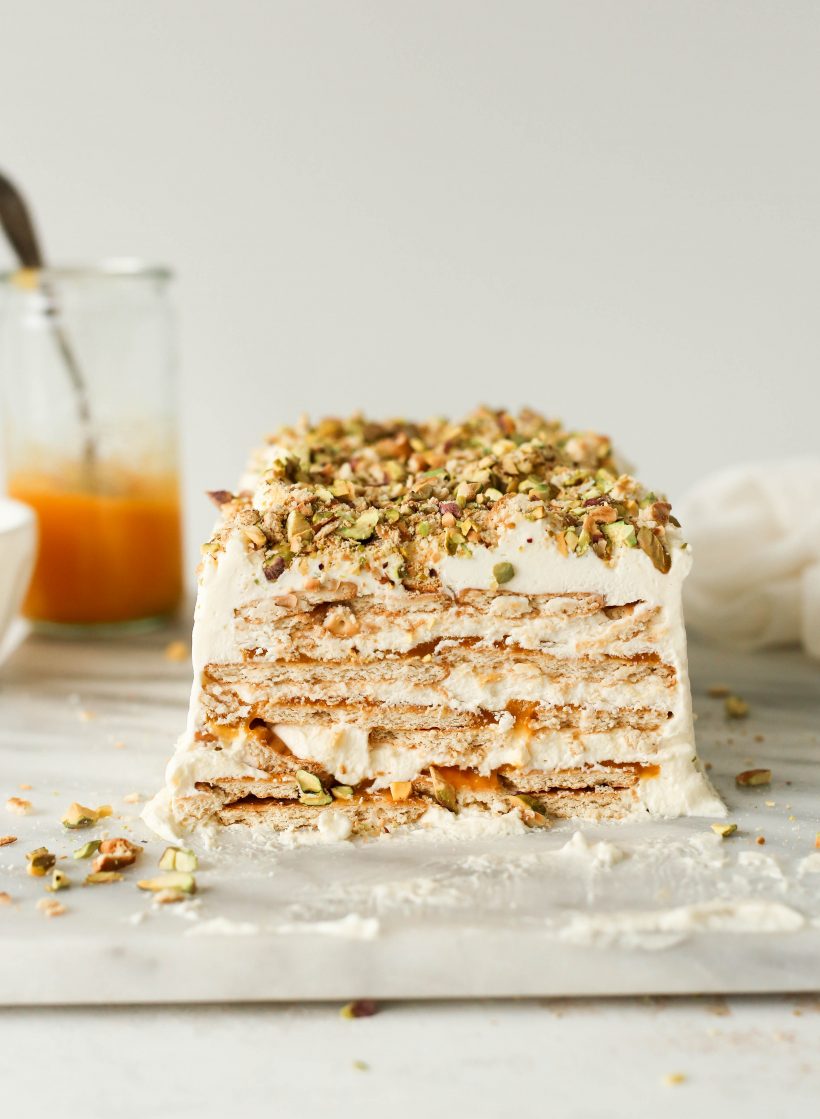 Unbaked mango and cardamom cream ice-box cake with salty pistachio crumbs
Why we love it: This snow cake is the perfect summer dessert for days when it's too hot to turn on the oven. If you haven't heard of one before, an ice box cake is a dessert made up of layers of cream, biscuits, and fillings that stick together in the fridge—no baking required. The layers in this recipe are as follows: mango puree, cardamom cream, crackers, and crumbled salty pistachios. AKA the perfect salty and sweet combo.
Main ingredient: Salty pistachio crumb is the icing on the cake…literally and figuratively.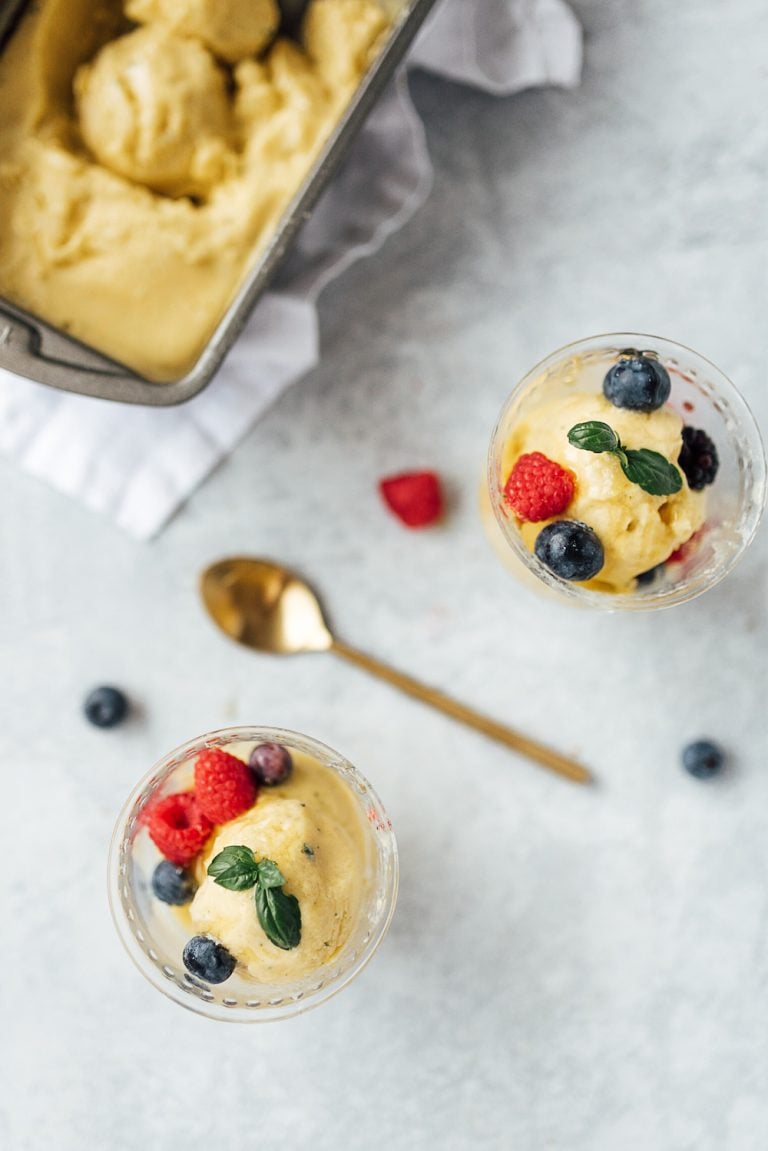 4- Mango and basil ice cream with 4 ingredients
Why we love it: This Mango Basil Ice Cream recipe is arguably the most effortless yet impressive summer dessert I've discovered. There's just something about homemade ice cream that makes me feel imaginative and this simple method shocked me. Simply mix in frozen mango, full-fat coconut milk, maple syrup, and fresh basil, and you're left with a crowd-pleasing vegan summer dessert.
Main ingredient: Basil takes this ice cream to a whole new level of freshness.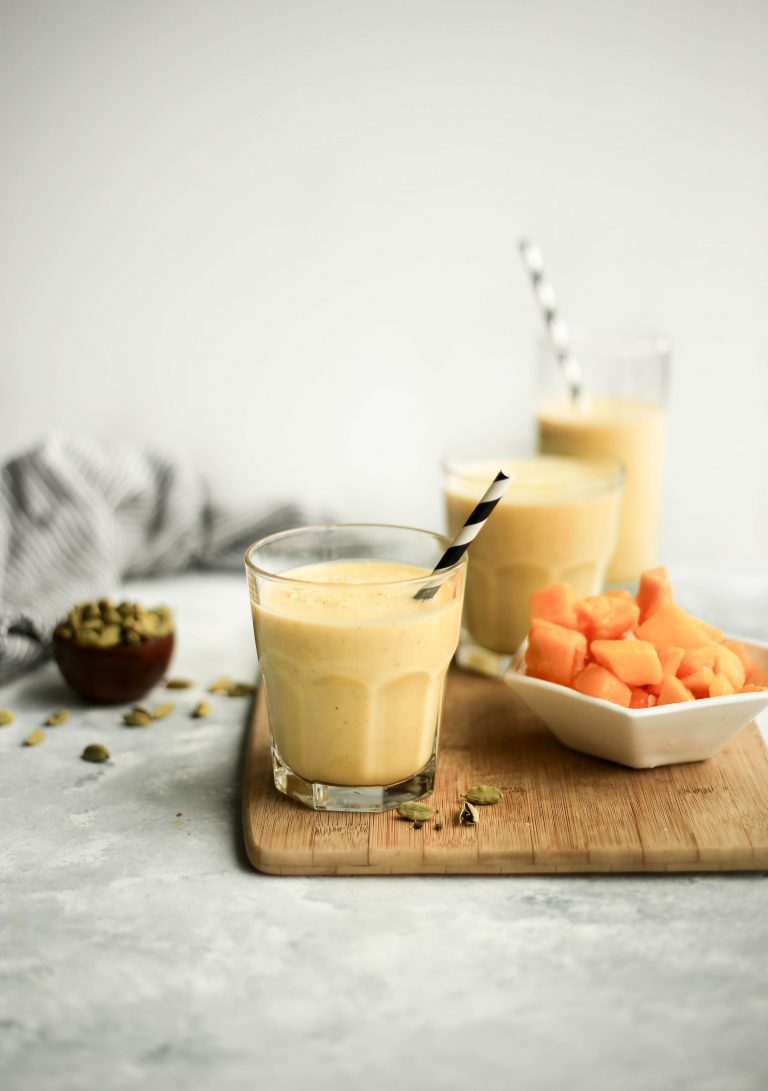 Sweet and savory mango lassi
Why we love it: This salty mango lassi recipe is the perfect way to unwind on a summer night. Not overly sweet like a modern lassi, this yoghurt-like dessert is made with yogurt, salt, pepper, cardamom, milk, honey to taste, and, of course, mango. These rewards come together in the blender in 10 minutes, but you'll sip on them wowyyyyyyyyyyyyyy faster. Believe me.
Main ingredient: Not only does Sylchave salt balance the sweetness of the mango, it's also packed with minerals and aids in digestion.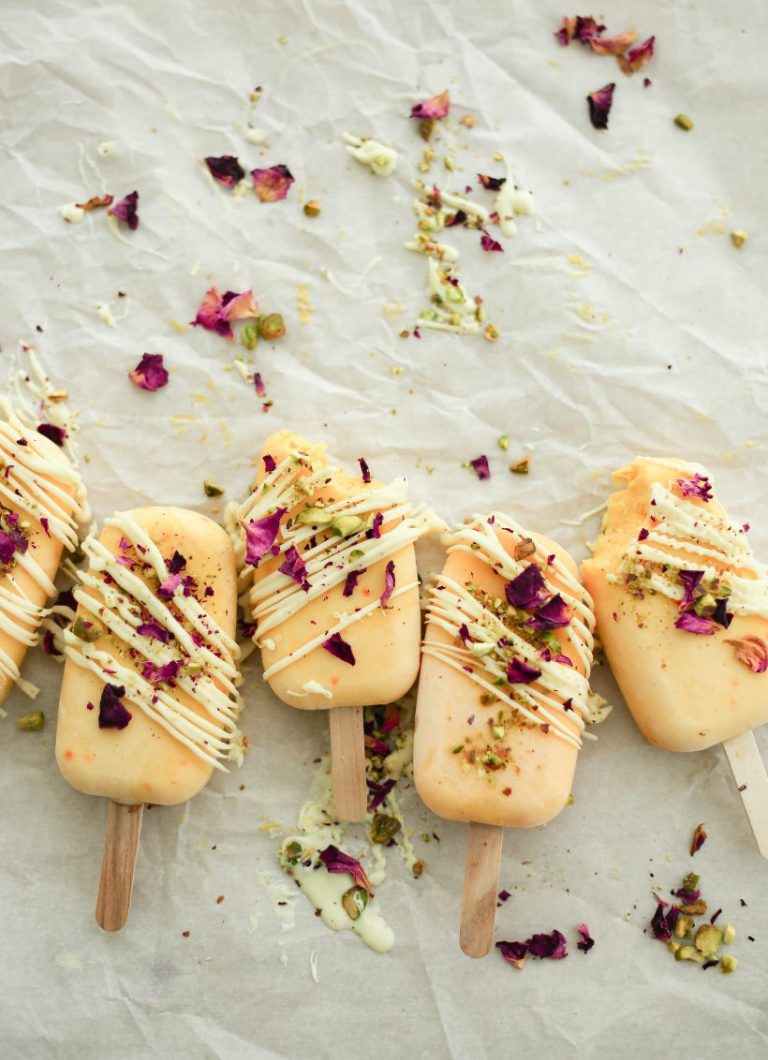 mango lassi lollipops
Why we love it: The mango lassi recipe you already know and love, in lollipop form. The decorations on these lollipops will make your guests cringe at your presentation. Once you've got the ingredients, try each of these mango dessert recipes and let us know your favorite.
Main ingredient: Milk powder is a true wonder of keeping popsicles creamy, not icy.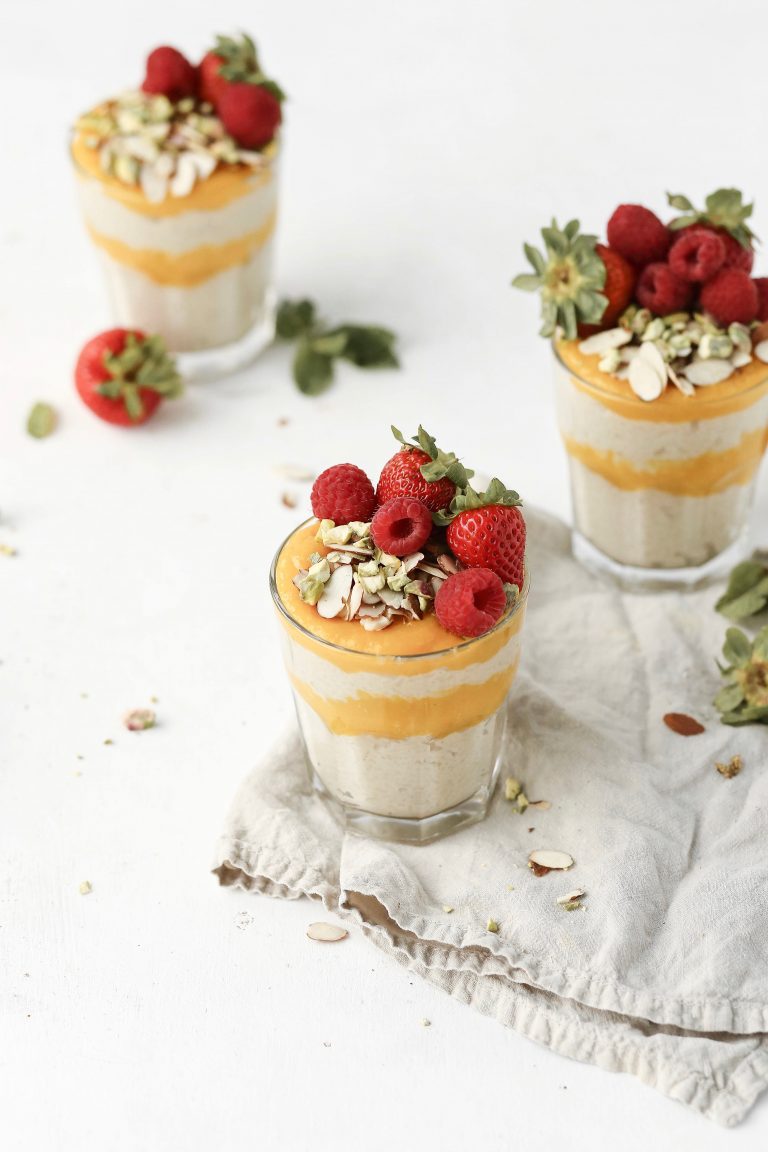 Good pudding and perfect mango curd
Why we love it: Khair is a milky rice dessert from India made by boiling rice with milk, sugar and some spices. This recipe layers in mango puree, and it's the perfect tangy and refreshing blend with sweet goodness. In addition, the purée has the consistency of curd without eggs and butter. These parfaits are so good you'll have them for dessert And the breakfast.
Main ingredient: Chocolate fudge aside—goodness might just be my new favourite.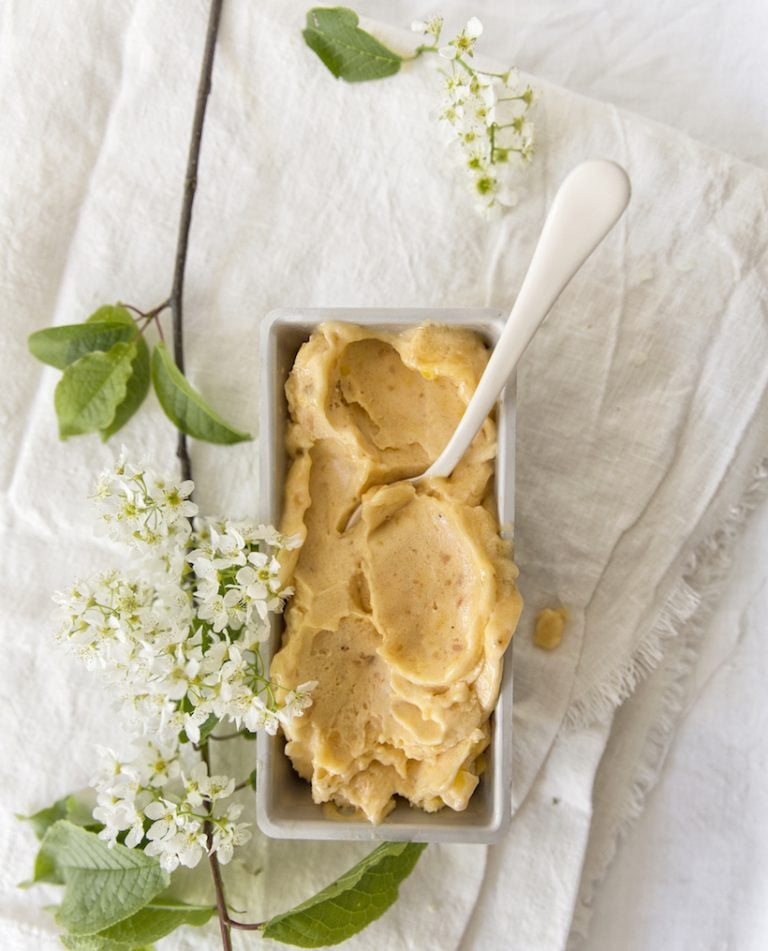 Why we love it: I can eat sorbet all day every day. Specifically this four-ingredient vegan version that tastes like summer in a bowl. This recipe combines watermelon (either melon or cantaloupe), mango, banana, and coconut syrup in a food processor or blender to create the new "nice cream" flavor. I also love to throw in frozen strawberries and make them my own!
Main ingredient: Banana creates a creamy texture without the cream.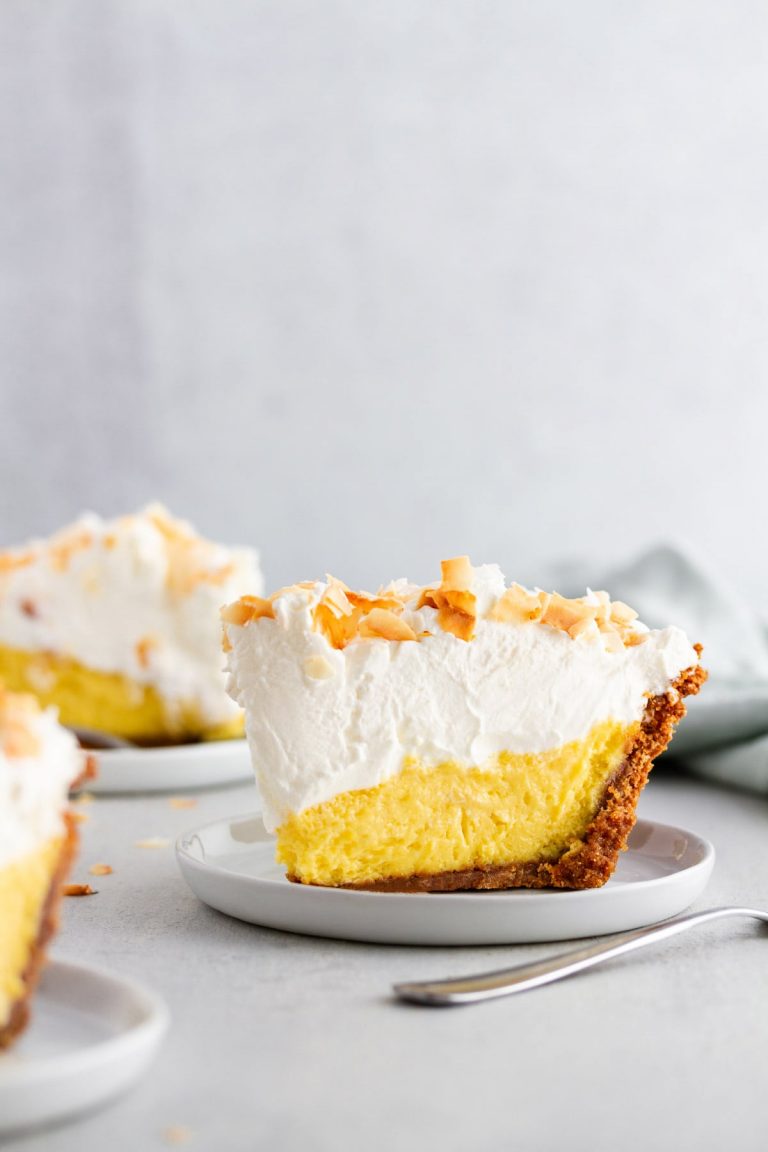 Girl vs Dough Creamy Mango Pie
Why we love it: If you're looking for a great dessert for your next summer dinner party, look no further than this pie. It has my dream graham cracker crust, fresh mango filling, and just the right amount of whipped cream (re: a lot). Not to mention, the toasted coconut flakes add the perfect crunch to every bite. Just know that once you make this pie, get ready to make it over and over – your guests will be ordering it from now on.
Main ingredient: Whenever a graham cracker is around, you will always be my hero.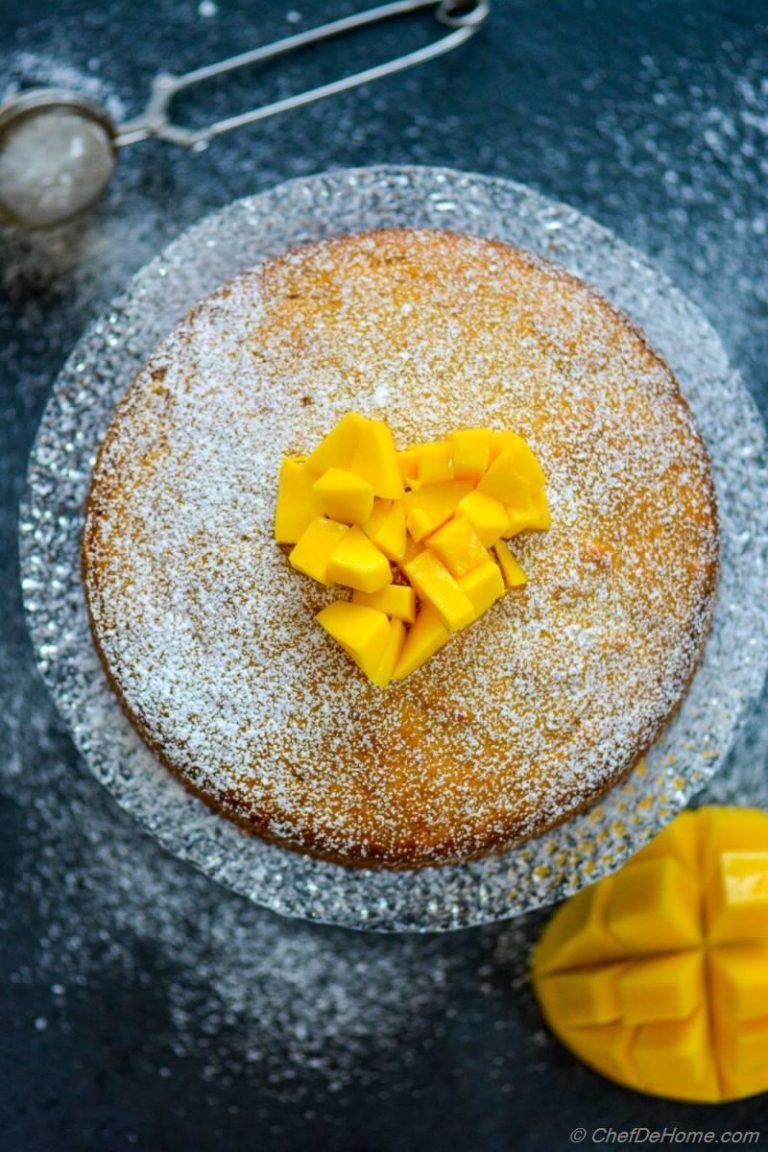 Chef de Home's Moist Mango Cake
Why we love it: This mango pound cake is a dessert, breakfast pastry, and tea snack all in one (or maybe just trying to find every excuse to eat it). All you need is a simple sprinkle of powdered sugar because the cake itself is the real star. This recipe is dense, moist, and fresh, and it tastes better the next day—if you have any leftovers, that is. Which I rarely do.
Main ingredient: A hint of coconut threatens to steal the show.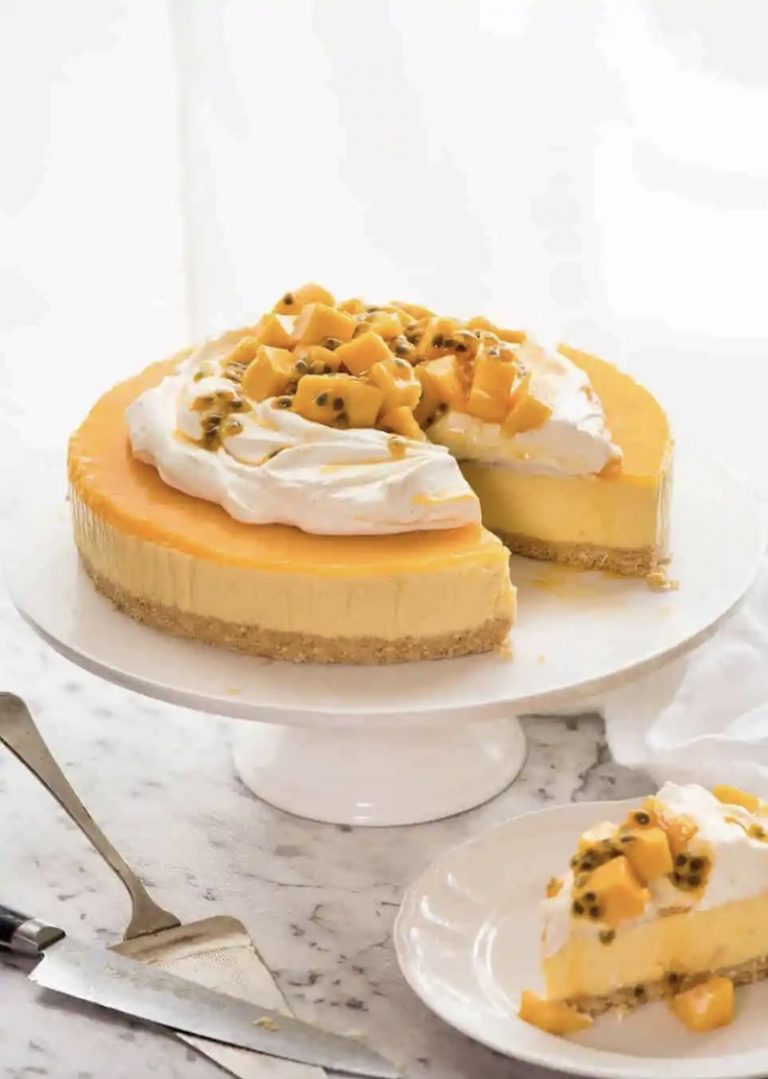 No Bake Mango Cheesecake by RecipeTin Eats
Why we love it: This is one mango dessert recipe that fulfills all the requirements for the perfect summer dessert. It uses summer crops and does not need an oven and is eaten cold. Imagine the classic cheesecake, but even better because it's covered in homemade mango jelly, whipped cream, and yes, more mango! It's also easy to cheat, thanks to the use of a food processor.
Main ingredient: You'll want to save your unbaked cheesecake filling no matter what.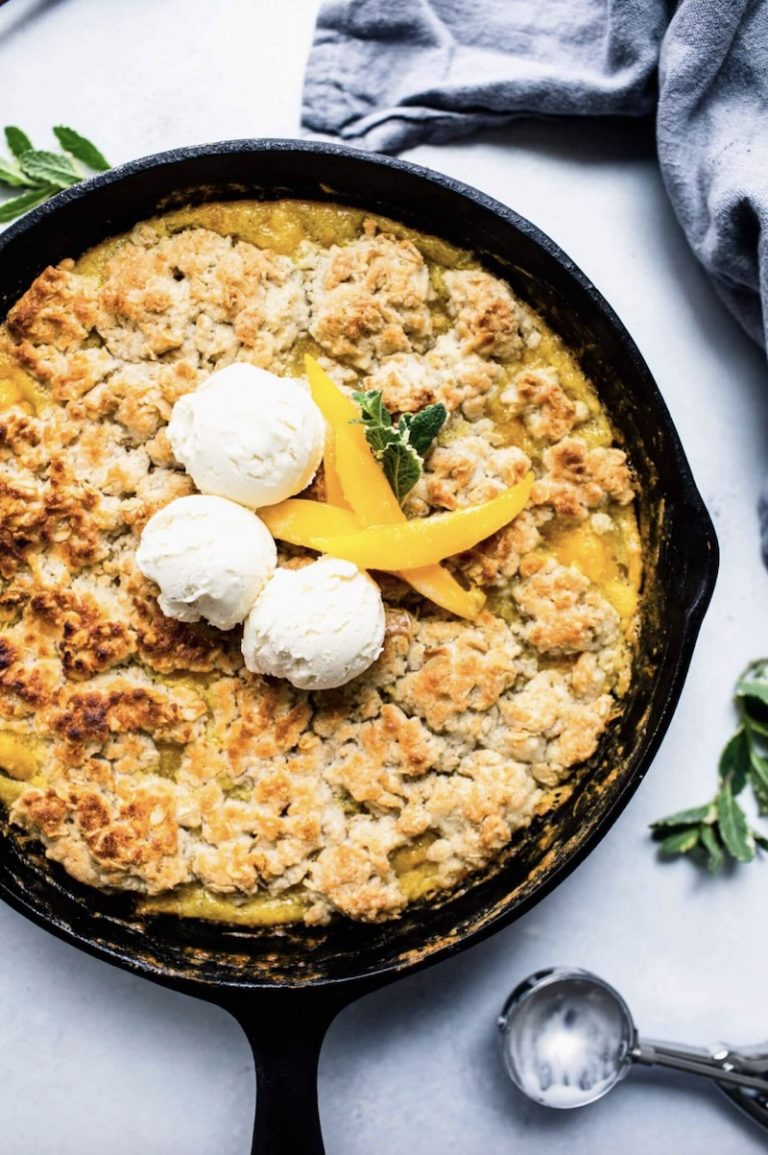 Easy Mango Cobbler Recipe from Platings + Parings
Why we love it: The la mode Cobbler will always be one of my favorite desserts. This special recipe reimagines the traditional apple cobbler made with mango and cardamom. The key here is to cook the mango with vanilla and sugar, thicken the fruit and caramelize it. It's summer in a classic fall dessert I didn't know I needed.
Main ingredient: It's the crunchy oat layer for me.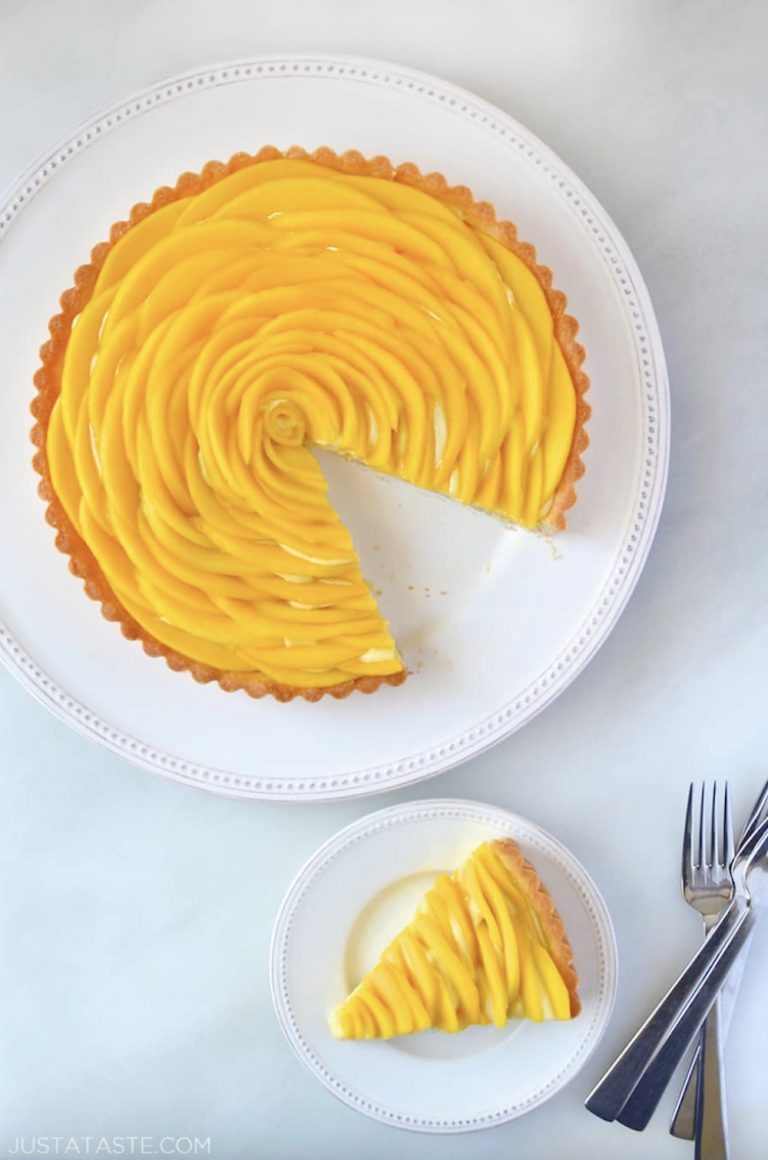 Just a Taste Mango with Vanilla Bean Cream tart
Why we love it: Yes, this dessert tastes as good as it sounds. And no, creating this mango pattern is not as difficult as it seems! This mango and vanilla tart is a creative use of a summer fruit that you won't regret trying. Vanilla mango filling rolls into a delicious shortbread crust that assembles in minutes.
Main ingredient: Vanilla beans are my favorite ice cream flavor and now the best pairing for mango dessert recipes.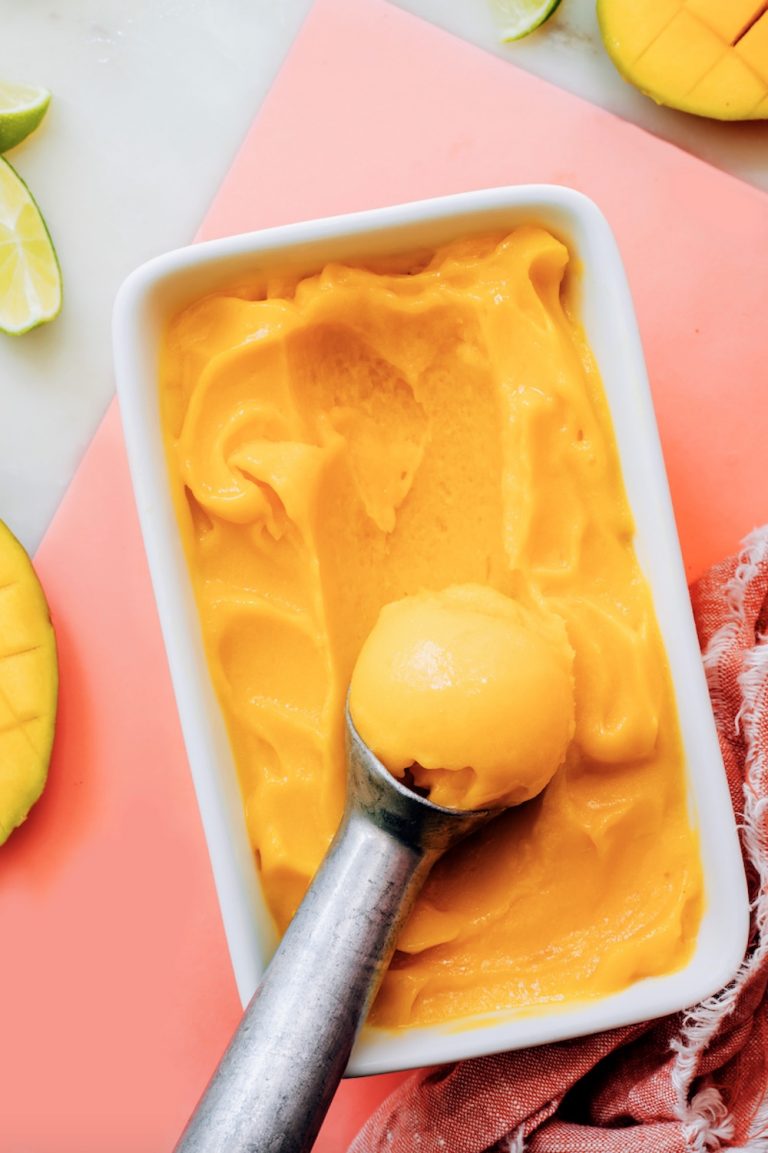 3-Ingredient Mango Syrup (No-Churn!) from Minimalist Baker
Why we love it: Frozen mango, fresh lime juice, and maple syrup magically combine in a food processor to make a refreshing, homemade summer drink that makes store-bought versions a shame. The best part is that you can eat it right away, or keep it in the freezer for a stronger sorbet. Store in the freezer for up to two weeks. If of course it continues for a long time.
Main ingredient: Lemon juice adds the perfect flavor to every spoonful.
Which of the following mango dessert recipes do you try first? Let us know in the comments below!