When you hear "Santa Monica," your mind may take pictures of standard California icons. Sunset on the sidewalk. A ride on the Pacific Park Ferry Wheel. Crowd of tourists on Third Street Promenade. But food wise? Where do your thoughts take you? I know what I'm thinking.
I think the diversity is from the Caribbean to the Japanese. Think fresh seafood, plump pierogis, and wood-fired pizza. I'm hungry and anticipating my next trip to the West, because Santa Monica has it all…if you know where to look. Start your search below.
Ads
Luneta
Luneta is where the locals eat. The modern American restaurant Michelin-award winning plate serves as an all-day neighborhood café transitioning to the concept of fine dining in the evening. Come for dinner where guests can be seen rolling handcrafted pasta on a fork and sinking their teeth into a juicy pork chop topped with blueberries. Menu items change with the season and specials always appear in the restaurant, keeping fans coming back for more.
chicken cha cha
The family-owned Cha Cha Chicken has been serving its signature Caribbean food to the Santa Monica community since the 1990s. The tropical menu features delicacies such as Coconut Fried Chicken, Jerk Salmon Tacos, and Cha Cha Chicken (the most famous) a grilled chicken dish dipped in popular Jerk Sauce restaurants. Order at the counter and find a place to sit, the space is completely outside. It's also BYOB if you want to add some liqueur to your plate of aguas frescas or open up a cold beer.
Brothers Sushi
Brothers Sushi, Chef Mark Okuda's Woodland Hills sushi restaurant, expanded to the West Side in 2021 to bring its signature modern omakase service to the Montana neighborhood. A wide selection of eclectic items includes dry aged fish, miso black cod, caviar and delicacies such as snow crab and fiery squid that appear in season.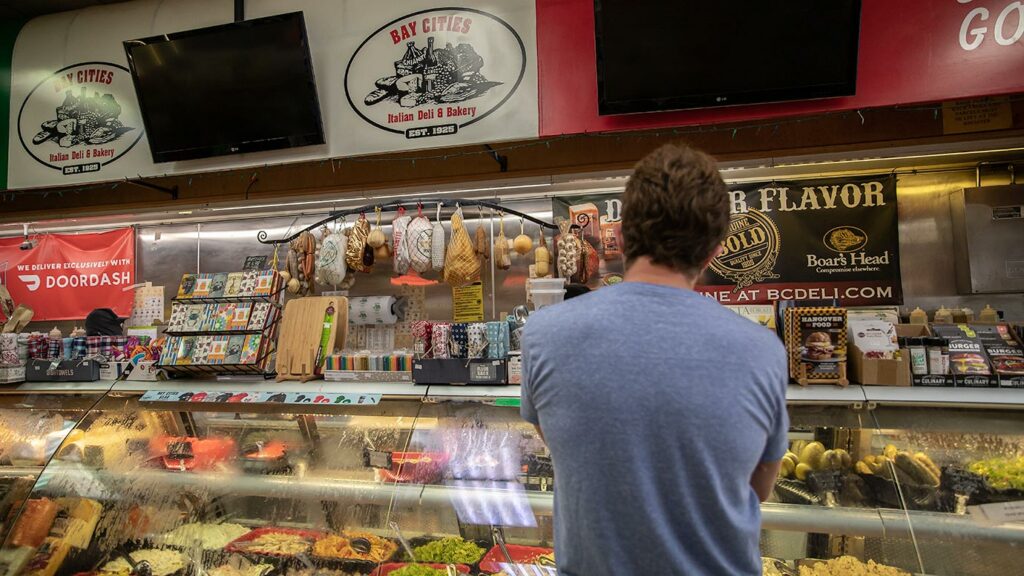 By Cities Italian Deli & Bakery
The Bay Cities has been open since 1925, and it's still one of the busiest places to grab a sandwich for a bigger cause in Los Angeles, and with good reason. On the menu are a mix of classic Italian and American sandwiches, including the famous Godfather, made with prosciutto, ham, cappi cola, mortadella, Genoa salami and provolone cheese on an Italian roll. And it's this roll – freshly baked with just enough crunch – that sets the sandwiches here above the rest. I advise ordering in advance online to avoid lines when possible. While you're inside the market, pick up a few other things to complete the meal like side dishes, soft drinks, and desserts. Bay Cities accepts cash or discount only, so be prepared.
Michael
The birthplace of California cuisine, Michael has produced some of the city's most notable chefs who went on to build their own restaurant empires including Top Chef winner Brooke Williamson, James Beard winner Nancy Silverton, and Top Chef Masters Sang Yeon. At Michael's, you'll feast on market dishes that highlight seasonal ingredients from local producers. Owner Michael McCarty is known for his art collection, so take a moment to admire the art hanging on the wall as you savor your bites.
Hey hey cheeseburger
HiHo Cheeseburger is made with grass fed and sustainably raised wagyu grass. Keep things simple with a classic burger or get HiHo topped with cheese, ketchup, onion jam, lettuce, pickles, and mustard. There is even an option to add pastrami to your burger. Complete your order with twice-cut, hand-cut French fries.
Gisallo
The team behind The Tasting Kitchen opened their wood-fried pizza spot Ghisallo in 2021. Chef David Rodriguez is Head Chef who previously worked under Master Pizza Chef Daniele Uditi of Pizzana. On the menu there is a wide range of mouth-watering pancakes, from the classic margherita to the casio pepe pepper. Rodriguez's culinary talent goes beyond pizza, offering the freshest pasta on the menu as well as Italian salads and sandwiches.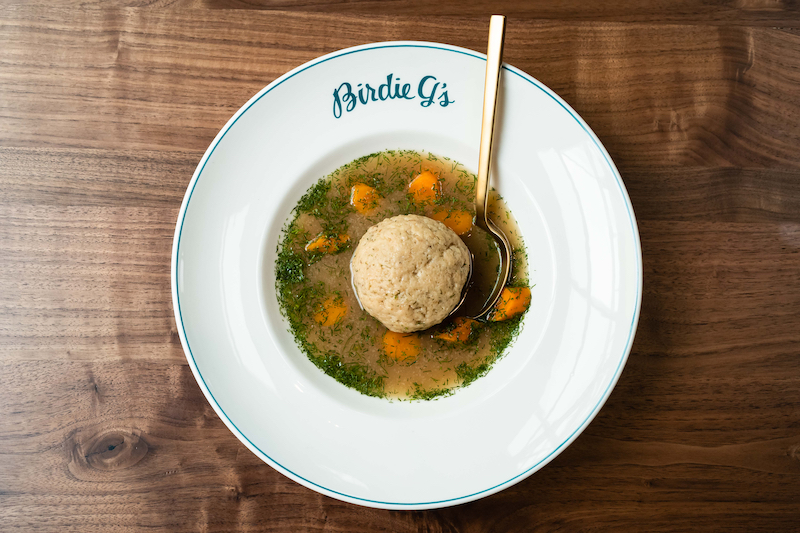 Birdie G
Chef Jeremy Fox's hilarious East European/American menu at Birdie J is influenced by what Fox eats. Here you'll find matzo ball soup, Southern kohl in a butter pecan brown sauce and Swerbraten, German-style roast, and other comfort food staples. One constant is the $30 relish tray (worth it), a pickle lover's dream filled with fermented, fresh, pickled, and seasoned vegetables served with an onion dip. For dessert, the rose petal pie is a stunning slice made of kaleidoscope pieces of strawberry, hibiscus, raspberry, and rose on a pretzel crust. The restaurant recently added a daily happy hour from 5-6pm with bar-only specials like Kishka Burger, Caesar Fries, and Smoked Sable Terrine.
Father's office
The Office Burger at Gastropub Father's Office in Sang Yoon is legendary and often called one of the best burgers in Los Angeles. The burger consists of aged dry beef, and is topped with bacon, arugula, caramelized onions, Gruyere, and Maytag blue cheese. Order a side of Salt & Vinegar Tots and have the bartender guide you through your beer selection, there are dozens of options including the "Really Good Shi…" menu if you want to get fancy.
Ads
water grill
The Water Grill turns sustainably caught seafood into perishable art. The seasonal specials are on the front page of their website and highlight the best that the ocean has to offer at the moment. Maryland soft-shelled crab, wild halibut, and spiny lobster all appear seasonally. The restaurant also features a street view of the ocean, which is a plus.
Via Veneto
Via Veneto on Santa Monica's main street is where you'll have dinner with someone you really like (as in…like). The romantic atmosphere and great Italian food have kept this gem in business since 2001. It's on the slightly more expensive side, there is a dress code, but the food and service are solid. Their signature menu includes classics such as Vongole, Bolognese, and the salt-coated Loup de Mer.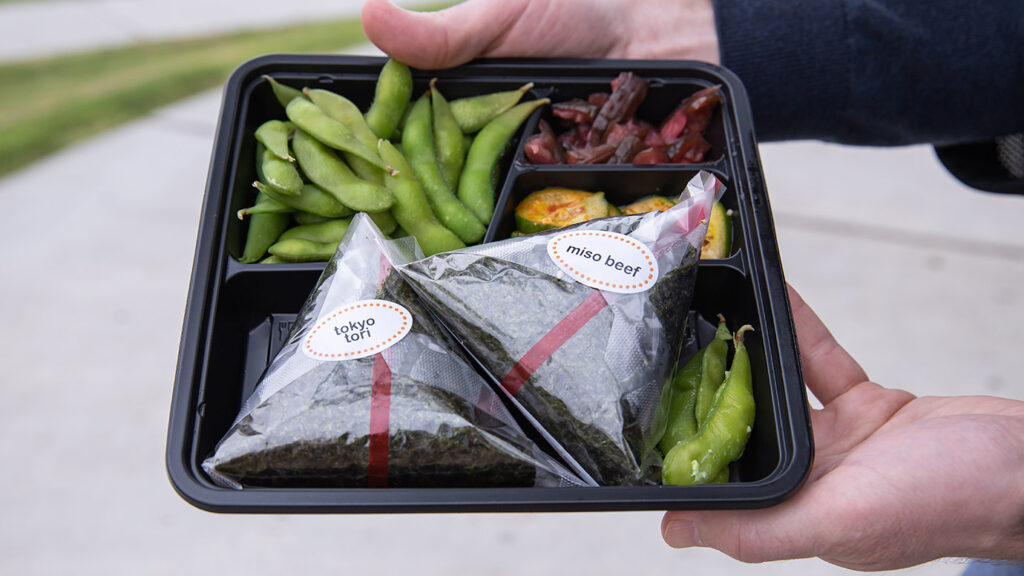 Sunny Blue
Japanese omusubi shop Sunny Blue adds a dash of variety to the restaurant scene on Main Street in Santa Monica. The family-owned business has been open since 2010, and is the first "on-demand" omusubi in the United States. Offering an authentic Japanese dining experience on a kid-friendly budget, this place is perfect for anyone looking for a quick bite. Omosubi (also called onigiri) are triangular shaped rice balls stuffed with a filling and rolled into a plate of nori. Each is priced at $4-5 USD. Fillings include Miso Beef, Curry Chicken, and Spicy Salmon, to vegetarian options like Shiso Ume. The $14 Bento Box is a good deal and includes two pieces of omosubi of your choice, edamame, spicy cucumber salad and Japanese pickles. Highlights also include Kinpira Gobo, a cold-pressed burdock and carrot salad, and Milk Tea Boba.
cassia
Husband and wife duo Bryant Ng and Kim Luu-Ng have a true Cassia winner. The upscale restaurant serves an imaginative Southeast Asian menu influenced by California style cuisine. The food here has a rich flavor with the extensive use of spices, herbs and fresh ingredients from local farms. An attractive selection of dishes includes the Vietnamese "sunbathing" shrimp dressed in plenty of hot sauce. Kaya toast topped with coconut jam served with a liquid egg dip; Spicy lamb breast over jasmine rice served in a clay pot.
Ads
symbiosis
Enjoy some handmade pierogies and other Polish delicacies at Solidarity. The restaurant was the go-to for Eastern European food in Santa Monica and serves classics like Golabki (stuffed cabbage), Borscht, Schnitzel, and Stroganoff. Stop by during happy hour (Tuesday-Friday 5-7 p.m.) for discounts on plates, dumplings, beer, and cocktails like the Warsaw Mule.
---
Want to get the best things to do in Los Angeles sent straight to your inbox? Join over 60,000 Angelenos who have signed up for our twice-weekly email newsletter!
By subscribing, you agree to our Terms of Use and Privacy Policy and agree to receive emails from We Like LA about news, events, offers and promotions for partners.
Ads