by Mike Stoneson
Charlotte Observer
DETROIT — A former police officer took it upon himself to serve up the delicious dessert after an ice cream shop in Michigan refused service to officers wearing body armor.
A social media post by Brian Eddy, a former Detroit Police Department officer, showed an ice cream truck parked on the street from Cold Truth Soft Surf, whose controversial stance received viral attention in late June.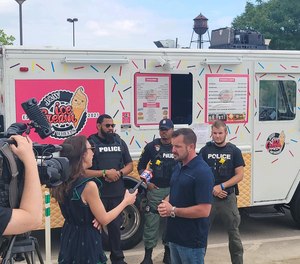 Eddie wrote on Facebook that he fainted with ice cream for four hours in Detroit on Wednesday, July 6.
"I think it's a way of saying hi, don't listen to these people," he told WXYZ. "We love you, keep doing what you are doing and we appreciate you. Don't go unnoticed."
Cold Truth was met with a host of negative reviews on its Google and Yelp page after a post on Instagram Story, which showed a police car parked outside its store.
"We can tolerate parking, but … we will not serve anyone wearing body armor," the caption, which appears in a screenshot from WJBK.
Ice cream shop won't serve police officers in body armor, calling it 'annoying'
Tim Mahoney, the store's owner, described it as "disturbing and disturbing" for families when officers come into the store wearing "heavy duty tactical gear."
[EARLIER: Detroit ice cream shop says it won't serve cops in body armor]
The store did not comment on the ice cream truck parked near its store Wednesday, and their social media posts are still full of comments criticizing the store for its previous comments.
Eddy said the free ice cream was given to officers from Michigan Insurance and Financial Services, where he currently works. The ice cream truck was parked at several places across Detroit, which are chronicled in the post's comments.
Later the same day, a Detroit police officer was killed in the line of duty. Detroit Police Chief James White said the officer was a 5-year veteran with the department.
"I only spent four hours today distributing free ice cream to Detroit's finest, just until a Detroit police officer was killed in the line of duty moments ago," Eddie said in a Facebook post. That's why we have to support our police. They do work that most of them can't or don't. Having put on this uniform, it's the most worthy job today."
© 2022 The Charlotte Observer. Visit charlotteobserver.com. Distributed by Tribune Content Agency, LLC.