Native to Ontario in their wild form, blueberries are tiny little gems with plenty of entertainment for the palate.
Article content
This week's cookbook is High Season by Dird Borek. Tomorrow, we will give an interview with the author.
Article content
To try another recipe from the book, check out: Apricot Sticky Ribs; And wrinkled corn feathers with zucchini pepper and fresh shichito.
Blueberries are one of the coolest summers in Canada. "It's something really special here, and they're really cool," says Deirdre Borek.
Native to North America, both lobush and hibiscus blueberries are found in Ontario – Toronto recipe developer, food writer and nutritionist at high season.
The tiny berries, which thrive in cooler climates, grow in abundance. On the other hand, Highbush plants produce larger berries in larger numbers and have been cultivated in Ontario since 1976.
"I wish I could write a recipe that says just wash the berries and eat them, because they are so good," Borek says with a laugh. "But I think people would question my abilities if I did that."
When you feel full from eating fresh blueberries, follow the instructions for borek and cook it with rosemary. This woody herb enhances its sweetness and gives you fresh, green notes.
Here, stewed berries are served atop a Dutch mini muffin, which holds a special place at its heart.
Cook this: Apricot sticky ribs from the high season

Cook This: Curly Corn Ribs with Zug Peppers and Shichito from Peak Season
"I love this so much because I'm making it with my (five-year-old) nephew," says Borek. "It's an easy, easy recipe but so much fun."
Pancake batter comes together quickly in a blender or food processor. Then pour it into an oven-safe pan to bake and puff. If you're in the mood to share, serve Dutch baby directly in the skillet, Borek suggests.
Article content
"(It's) so fun to even just serve it up like that if you're with a group of people who are really close to you, where you can kind of like rip it all together, and dip it into a berry."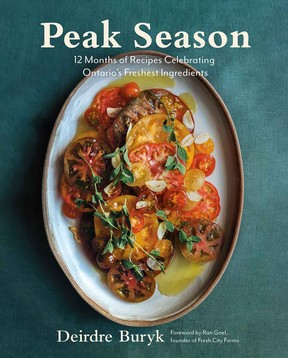 Dutch baby with stewed rosemary and berries
Stewed rosemary berries:
1 cup blueberries
1 tablespoon water
1 tablespoon granulated sugar
1 sprig rosemary (or 1 teaspoon dried)
Dutch kid:
1/2 cup (65 g) all-purpose flour
1/2 cup (125 ml) oat milk (or any milk)
3 eggs
2 tablespoons granulated sugar
1/2 teaspoon kosher salt
2 tablespoons (30 g) unsalted butter, room temperature
Step 1
In a medium skillet on medium-high, heat blueberries and water. Once the liquid begins to form small bubbles, reduce the heat to medium-low and add the sugar and rosemary. Stir and cook until sugar dissolves, 2 minutes. Remove from heat and set the rosemary-stewed blueberries to remove any woody stems from the rosemary.
Step 2
In a stand mixer or food processor fitted with the blade, place the flour, milk, eggs, sugar, and salt. Blend for 10 seconds, scraping sides, then blend for another 10 seconds. The mixture will be quite loose (like a liquid). Leave the mixture in the blender for 20 to 25 minutes. This will give the flour a chance to absorb the liquid and thicken the dough.
Step 3
Meanwhile, preheat oven to 425°F (220°C). Place a 12-inch (30 cm) skillet in the oven to warm with the oven. When the mixture is done resting, remove the pan from the oven (remember it will be hot, so use oven mitts). Add the butter and stir the skillet to melt the butter and cover the bottom and sides of the skillet. Pour the batter into the buttered pan and tilt the pan to distribute the batter evenly on all sides of the pan.
Step 4
Bake until baby Dutch is puffed up into a golden cloud with crunchy, dark brown edges, 15 to 20 minutes. Serve hot from the skillet and top with the stewed blueberries with rosemary.
Serves: 4
Recipe and photo adapted from Peak Season by Deirdre Buryk. Copyright © 2022 Deirdre Buryk. Photo © 2021 Janet Downey. Published by Appetite by Random House, a division of Penguin Random House Canada Limited. Reproduced in coordination with the publisher. All rights reserved.