I Baklava problem. Many recipes warn that because Middle Eastern sweet pastries are "so rich and sweet," in the words of the great Claudia Rodin, "the portions should be very small." Theoretically, then, a small grain of nuts and ground nuts, dripping with a refreshing syrup, should be enough for anyone, maybe two if he's particularly greedy – and yet this week I discovered that I was quite capable of shedding half of a tin without getting out for air. . And for this reason, perhaps, it was wise not to learn how to make it. As it happens, despite food writer Rebecca Seale's warning that baklava is "badly hard to make," I found it surprisingly easy. Maybe too easy.
nuts
Although most sources agree that it is likely of Turkish origin, baklava spread throughout the Ottoman Empire, and can be found as far away as Albania and Azerbaijan – with a similar prevalence of fillings. Nuts are the only constant factor, which is credited in the Oxford Companion to Food for the Persian influence on the regime's cuisine. Walnuts are popular, especially in the northern regions, where almonds and pistachios appear in the south and east – Rodin notes, in her book on Jewish food, that "the pistachio filling was considered the best." She permits any of the three, while the seal identifies the nut in her book The Islands of Greece, and so does Artau der Harutunian in his classic book Sweets and Sweets from the Middle East.
Sabrina Ghayour uses a blend of ground almonds and chopped pistachios in Persia, and Sally Butcher (who won my trust in Snackistan by admitting that baklava is "kind of addictive… Lots of self-confessed diabetics come to the store to buy." He assures us that they will They just mess with their medicine to make up") to ground almonds, but mention that cashews, walnuts, or pistachios can also be used. Since I hadn't seen cashews mentioned elsewhere, I decided to give them a try in her recipe.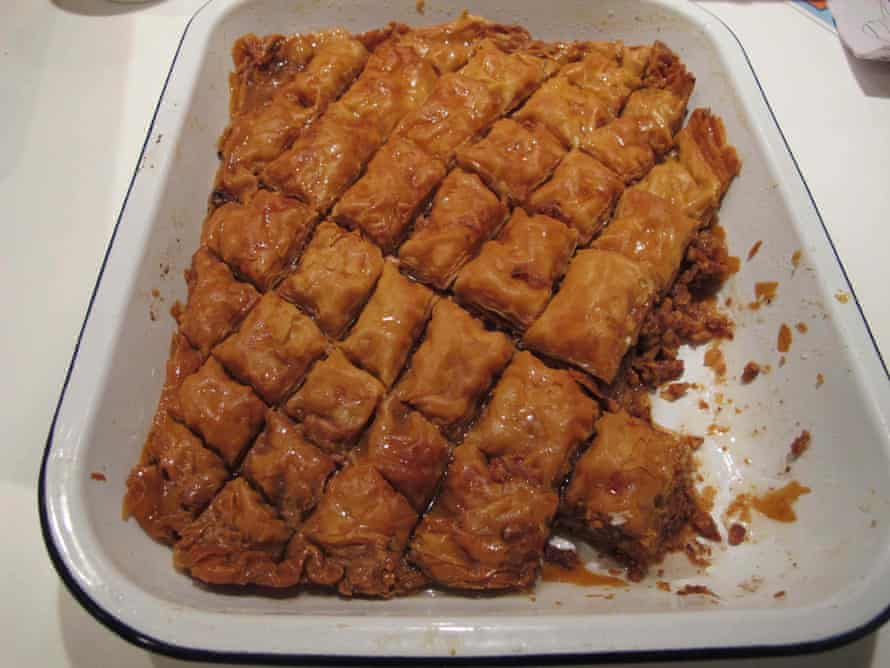 The choice of nuts comes down to personal taste (and budget – pistachios are still much more expensive than any other type of nuts). I love the slight bitterness of the walnuts as a base, mixed with sweet ground almonds and a few pricey pistachios, for both the lovely flavor and the crunch they bring. Cashews, while bland, are too delicate to stand out here.
Rodin adds melted butter and sugar to her nuts, and mixes seals, butchers, and jerks in sugar (the Harutunian Monastery leaves them in a natural form). I love the richness that butter brings to potentially drying ground almonds, but given the infusion of syrup to come, I'll skip the extra sugar.
pastries
Modern baklava is almost always made from paper-thin wafers—unless I'm making it, influenced by a simple comment made by the Harutunian Monastery: "If you want to be more authentic, use homemade filo baklava," which I consider a straightforward challenge. For some reason, homemade filo is more difficult to master than homemade pie pastry; It is difficult to stretch without tearing.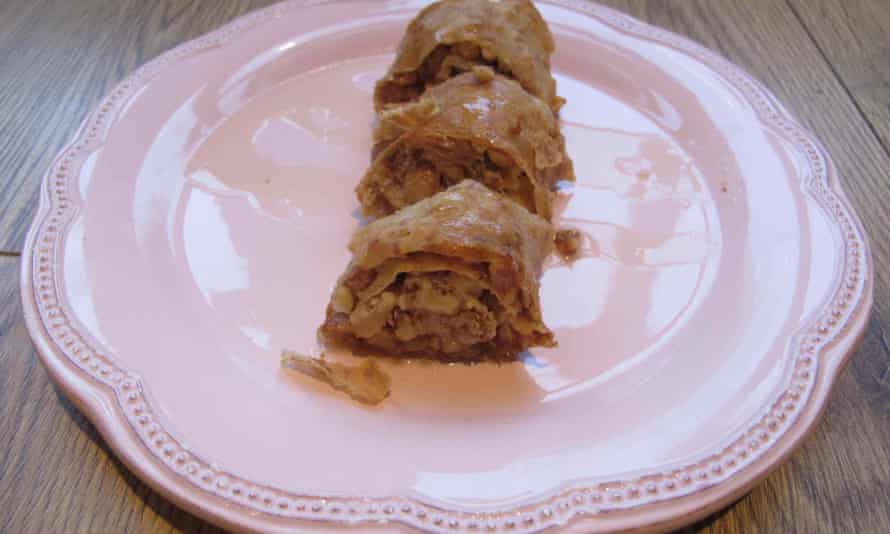 I will not pretend that the results were a victory. The only benefit I can see making it your own is that the Der Haroutunian recipe requires a little more salt than the commercial kind, which makes a nice contrast to the sweetness of the rest of the dish. I can correct this, though, by adding some to the padding. Unless you are a pastry devil with the patience of a saint, I recommend using a ready-made pie. Really, how you handle it is what matters. Not all recipes are generous enough with butter, which makes the result somewhat dry. It's important to brush each layer with melted butter—and make sure to trim the edges, rather than fold them, so you don't end up with bits of dry pancake around the sides. Roden uses a mixture of melted butter and vegetable oil for this, and Der Haroutunian goes for clarified butter, but I can't see the benefit of either, although a professional would undoubtedly be able to enlighten me. Until then, I'll stick with butter.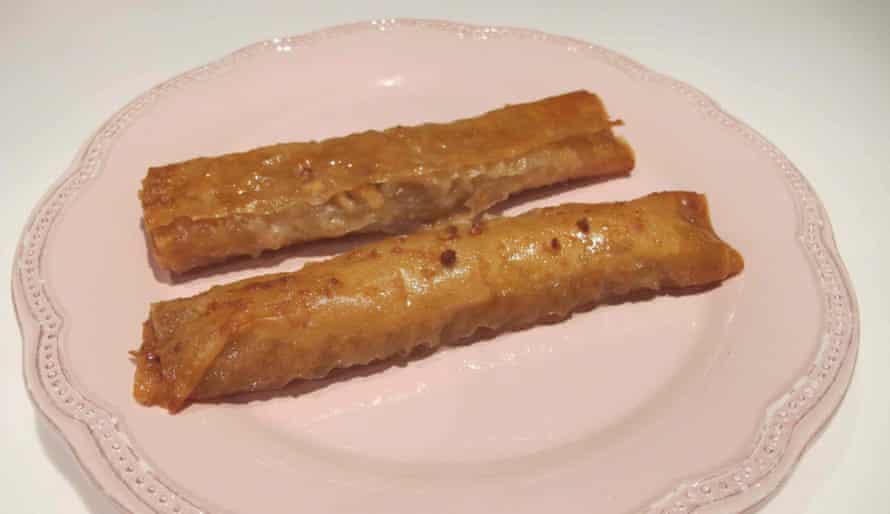 Der Harutunian warns the cook to "squeeze the sheets as little as possible. This ensures that air is trapped between the layers and thus enables the sweet to rise." I do my best, although after buttering them it's hard to see the air that could remain. Both Seal and Butcher make baklava rolls, rather than the traditional layered pastry; It's a faster method, but less satisfying, as the smaller ratio of pastry to filling allows them to absorb less syrup. Credit goes to food writer and fashion designer Carol Tennant, who kindly advises me how to precisely cut baklava after seeing my sad early attempts online.
Flavors
Der Haroutunian adds nothing to its nutty filling, but this seems like a missed opportunity when so many great Middle Eastern flavors are paired perfectly with nuts. Both butcher and jealous puts out cardamom, which always tastes exotically exotic to me, and I like the last orange flavor too, which contributes another much-needed bitter note to the proceedings. The butcher also adds rose water or orange blossom, but I think it's easier to mix with the syrup.
concentrated syrup
When you take the baklava out of the oven, you may be forgiven for disappointment with the dry, cracked wasteland it produced—that's where the syrup comes in. The pastry should be dipped in the stuff (although Roden allows it "if you don't want the pastry to be too sweet, cut the syrup in half"). The simplest syrup comes from Butcher, who, although she also offers a more traditional recipe, tells me that these pastries were originally made with honey or date syrup, and offers a version that uses these, dissolved in water. I like the honey flavor, but I find it a bit strong here.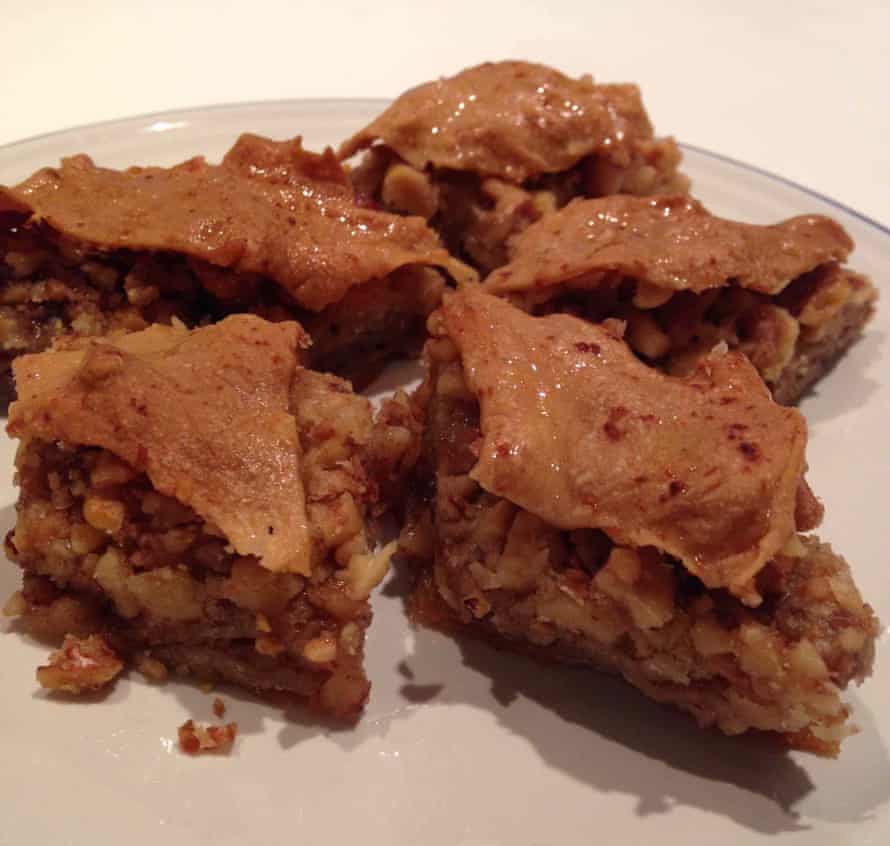 Others add lemon juice to traditional white sugar, contributing to a welcome refreshment, while stirring Roden and Der Haroutunian into orange blossom water and rose water respectively. I love both, but given the orange flavor in my filling, it felt full before. Most recipes add syrup as soon as or shortly after the pastry comes out of the oven, so it can be absorbed when cool, but Roden shares a "unconventional secret trick" for her Aunt Cute — she puts grilled baklava back in for five minutes, explaining that "pastry made this way" It's among the best pastries I've eaten." And when Rodin says that, you know she's right.
The perfect baklava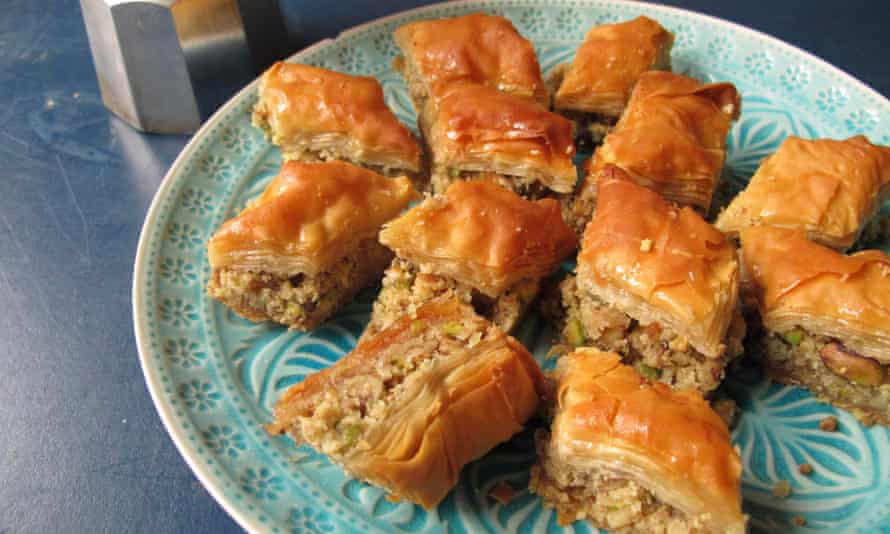 (makes 1 tray)
250 gm butter
300 grams chopped walnuts
125gm ground almonds
75 g pistachios, sliced
One orange flavor
pinch of salt (optional)
1 teaspoon ground cardamom
12 sheets of phyllo dough (2 x 270 g)
250gm granulated or fine sugar
juice of half a lemon
1 tablespoon blossom water (or to taste)
Melt the butter. Crush or coarsely chop the walnuts until you have a lumpy crumble, then stir in the ground almonds and chopped pistachios, followed by the husks, salt (if using), cardamom, and 5 tablespoons of melted butter. Mix well.
Preheat oven to 160°C/315°F/gas mark 2.5. Find a 30 x 25 cm tin and grease it well with melted butter. Lay the gouache on a clear work surface near the tin, with the melted butter-nut mixture close at hand. Line the tray with one sheet of Algelash and brush with melted butter. Continue in this manner with five more sheets of phyllo.
Pour the nut mixture evenly over it, but without pressing it too hard. Lay the rest of the bowl on top, brushing each sheet with butter again before adding the next layer, being especially generous with the topping.
Use a sharp knife to cut the layers in parallel lines to make diamond shapes. Bake for an hour.
Meanwhile, put sugar and lemon juice in a bowl with 125 ml of water. Bring the mixture to a boil, stirring to dissolve the sugar, then simmer for about 10 minutes until it becomes a syrup. Raise the heat and let cool a bit, then add the blossom water to taste (brands vary greatly in strength, so add a few at a time). Sit aside.
When the baklava is golden, remove from the oven and raise the temperature to 180°C/350°F/gas mark four. Once it reaches the temperature, pour the syrup over it, especially along the lines, and put it back in the oven for five minutes. Remove it and allow it to cool completely, when it should absorb all the dripping. Run a knife along the lines to loosen them before trying to lift the pieces out of the tin.
Baklava: Sultan of sweets or sugar bomb not worth the diabetes risk? What's your favorite filling, and where do you make the best version?