Caramel is one of my favorite desserts, no matter what fruit you use, but this fancy, luxurious apple cake takes a classic conversation and turns it into a real stand and a true centerpiece for special occasions.
Ingredients
Make: 1 large cake (10-14 slices)
to equip: 45 minutes
cook: 35-40 minutes
250gm soft unsalted butter, plus an extra amount for butter
3 Cox or Granny Smith apples, peeled, seeded and cut into small cubes
225g caster sugar plus 3 tablespoons
3 medium term eggs
250 g self-raising flour
½ teaspoon baking powder
¼ teaspoon ground cinnamon
For crumb surface:
35g unsalted butter
50g plain flour
1 tablespoon fine brown sugar
30 grams chopped hazelnuts
For filling/icing:
2 cox apples, peeled, seeded and thinly sliced
30 grams fine sugar
250gm soft unsalted butter
200g de leche / caramel
150 grams powdered sugar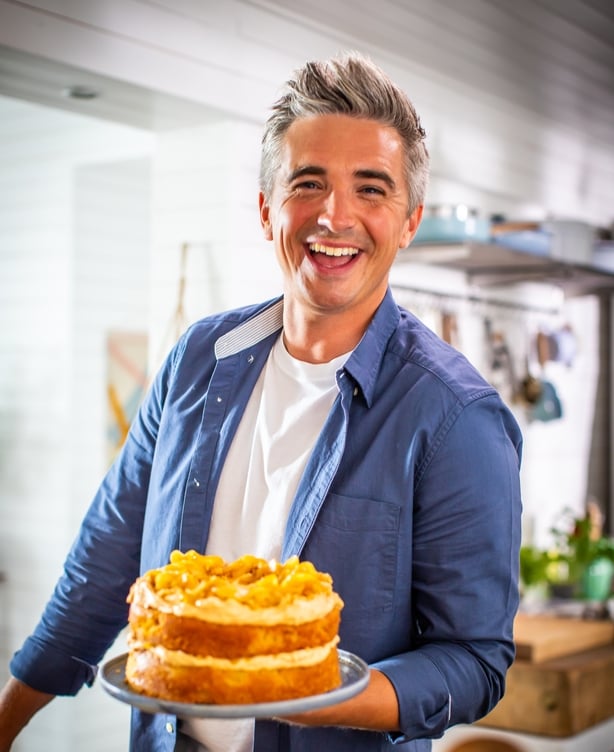 method
Preheat oven to 170°C/150°C fan/325°F/Gas 3 Grease and line two 20cm deep sheets with baking paper.
Put the apple cubes in a bowl with a little water and 3 tablespoons of sugar. Simmer and cook gently for 10 minutes or so, until softened. Add a little water while they cook if they seem a little dry. Set aside to cool completely.
In a bowl, whisk together the softened butter and powdered sugar until the mixture is light and fluffy. Beat the eggs all at once until you get a rich and smooth mixture.
Add the flour, baking powder and cinnamon, then add the cooked apples. If the mixture is a little thick, you can add a little milk or a little yoghurt.
Divide the mixture between 2 tins and bake in the center of the oven for 35-40 minutes, until a clean skewer comes out. Cool in can for 10 minutes, then turn on wire rack to cool completely. Raise oven temperature to 180°C / 160°C with fan / 350°F / Gas 4.
Make crumbs. Rub the butter and flour together with your fingertips until pea-sized clumps form, then stir in the sugar and nuts.
Spread on a lined baking tray and bake for 10-12 minutes, until golden. Let it cool down.
Make the filling / icing. Put the apples in a bowl with icing sugar and 40 g of butter. Cook gently, stirring occasionally, for 10 minutes, until sugar is dissolved and apples are glossy. Increase the heat and bubbles for 3-4 minutes, until they caramelize and become sticky. Let it cool down.
Beat the rest of the butter with the lychee/caramel duke and the powdered sugar until smooth and fluffy. If it clumps, add a little hot water and whisk until it returns to a nice, smooth texture.
When ready to assemble, place one cake on a serving plate. Spread over half of the icing cream and add a few caramel apples and half of the caramel, then cover with the second cake.
Spread the other half of the icing cream on top and distribute it with the rest of the caramel apples and crumbs.