Summer is getting hot in Bolton and there's a new ice cream shop to help cool off with a twist. Sweet candy rolled, not scooped.
RollyScoop is located at 8 King St.W in Bolton, and is run by Kamalpreet Chaggar and his wife Gunjanpreet Rainu.
The couple proceeded to make ice cream that had no taste or smell as if they were sitting in the freezer. They opened in mid-May and so far, Shagar says, the reaction has been positive with him waving it in the street to say how delicious their ice cream rolls are.
Unlike frozen ice cream and frozen in tubs, at RollyScoop, the rolls are made right in front of customers as soon as they choose their flavor.
Different liquid bases are prepared each morning based on the recipes the couple came up with. There are 11 flavors including mango, kiwi, grape, Oreo crush, and red velvet, and five premium flavors like monkey fluff, a blend of Nutella and banana.
When the customer places an order for the flavor he wants, the base is taken out of the refrigerator and poured into a cold, round metal container kept at a temperature of about -18°C. Additives such as chopped fresh fruit are also added. When the base begins to harden, roll the ice cream with a scraper.
"Freshness and richness is what you see in these ice creams. It's a big difference. You probably won't eat those regular ice creams anymore," Shagar said.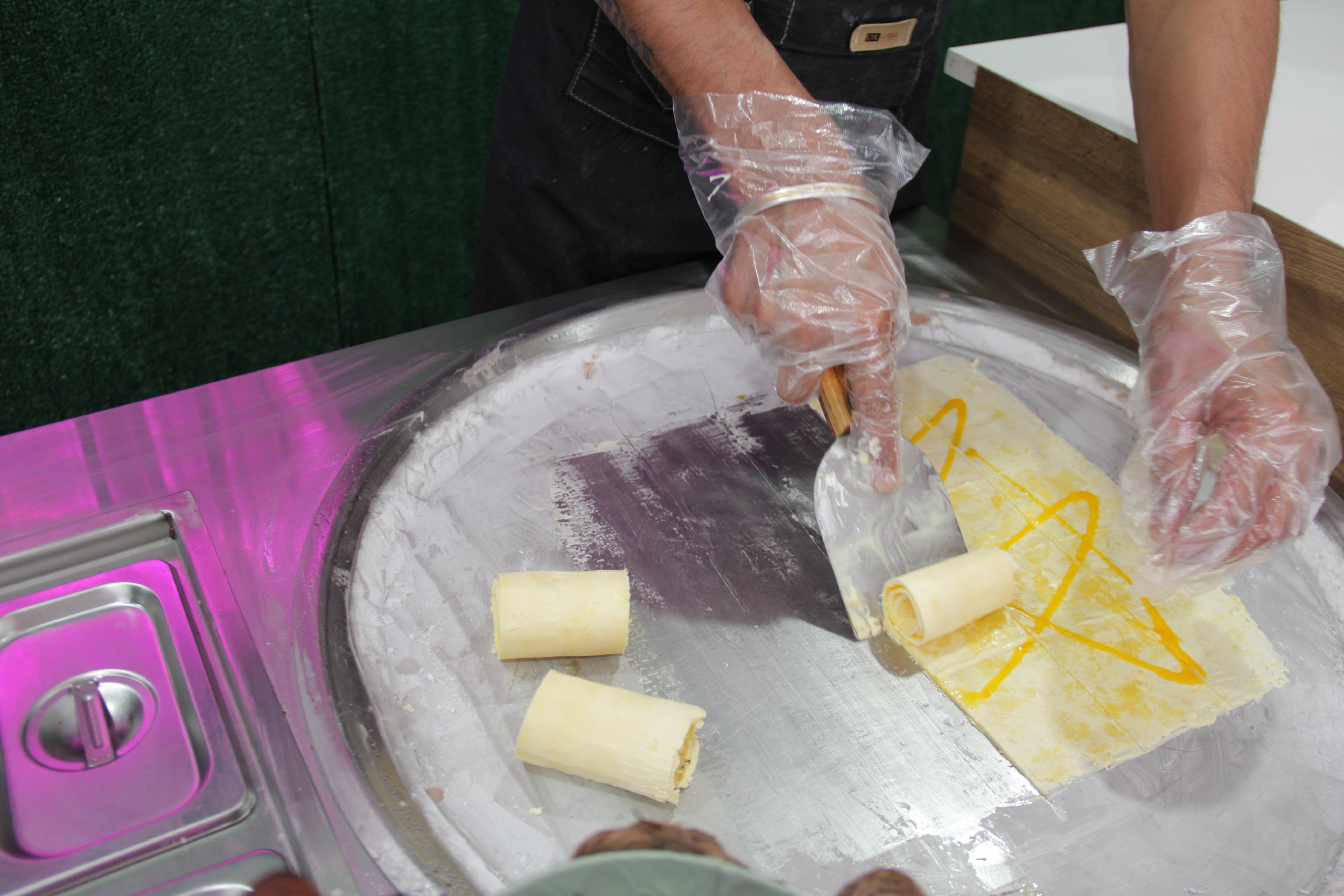 Shagar has been a resident of Bolton for the past seven years, having emigrated from India. He's a mechanical engineer by trade, but says he knew he always wanted to have his own business.
When he returned to India in 2019, it was there where he saw rolled ice cream being served. After conducting research, he learned that it originated in Thailand and is becoming increasingly popular not only in Asia, but also in North America.
He left his job at Husky Injection Molding Systems and decided with his wife, who has a background in culinary arts, that this would be the business they launched.
He says he often visits friends and former co-workers at the store and asks him about a move. His advice to them is to take a calculated risk and if they want to start their own business, don't be afraid to jump right in once they have a plan.
RollyScoop's opening process took months with Chagar and his wife making and testing different versions of the flavors they wanted to offer until the taste and texture were satisfying. It takes constant training in making the rolls to make sure the shape fits right, Shagar says.
The drinks menu is also in the works and some new ice cream flavors will be added soon, including Raspberry Lemonade.
RollyScoop is open seven days a week from noon to 10 p.m. Check their Instagram page for the list and the latest updates.
Share: