How many days have passed since the last mega-retail briefing? fourteen. How many additional business opportunities will be open to our office since then? more. much more. As the days go by every day you can take your word for it from today's books I'm starting a new restaurant in the day club.
now open
Batista
For those cruising the streets and desperately searching for Cuban cuisine amid our boba and lively street pokes – your prayers have been answered. Opening at a collective eclectic (about 27 South and 5 East) in South Salt Lake, this new joint serves Cuban and Nicaraguan cuisine. You can find Batista's roster here on our sister site's SLC listing.
There's no Cubano out there yet – but given the constant barrage of people asking where you can get the best in SLC (it's currently Biltex by the way) – one can imagine the pressure changes pretty quickly.
493 East 2700 South
(385) 484-757
Big Dipper
Speaking of covetously stuffing things between bread—check this one out in Park City; And while you're at it, start recasting Big Spender's lyrics as a sandwich-based anthem. BD doesn't mind a soup off the freak either, check out some of the dishes on the fun menu.
Dishes like the irresistible shrimp with crunchy and pickled rock shrimp, romaine, tomato, and remoulade come with a nod and a wink, in this case a side of creamy clam chowder. Meanwhile, a hot tigana is loaded with shaved pork, cotija, red onions, cucumbers, fresh jalapenos, cilantro, and spicy cheetos. This one comes with chile broth. In fact, each sandwich contains a corresponding liquid for your dipping pleasure. The image at the top of the page is Saigon in Sixty Seconds.
Idea from the 350 Main and The Spur team – Courtney Johansson, Fabio Ferreira, and Chef Matthew Safrank. This seems like a solid new addition for those looking for both calories and warmth after slalom. It's opening alongside the impending Star Bar in the old Star Hotel.
All together now, the moment you walk into the joint…
227 Main Street, Park City, Utah 84060
instagram.com/bigdipperparkcity
Blatch's Backyard BBQ
Another one to add to the ever-growing pile of home starters—this one is for vegetarians who bemoan the lack of barbecue options other than a cucumber salad and head pat. Blitch Shows pick up on Fridays from 3-6:00pm with pre-orders accepted all week until late afternoon on Thursdays.
If you're worried that Blatch doesn't have the chops – he also cooks up a good looking array of carnivorous options too – brisket, pork, burnt ends, and more.
Seafood and grilled chow time buffet
new. Or is it not new? Chow Time seems to have a profile going back a few years, but recently appeared on Yelp as a new business. Reviews talk about the "last opening" of this west side buffet. Think renaming, rebranding or changing an existing buffet?
2819 South 5600 Watts, West Valley City, Utah 84120
(801) 890-3838
munch kart
Operating out of Kumisari Kumkum Kitchen, this fast-paced Indian kitchen caters to your curry needs by in-person delivery and pick-up. Preparations include dishes such as saoji and makhani, along with options for bowls and wraps. Prices are very attentive, starting at $7.99 for some of the vegetable dishes on the set menu.
sidebar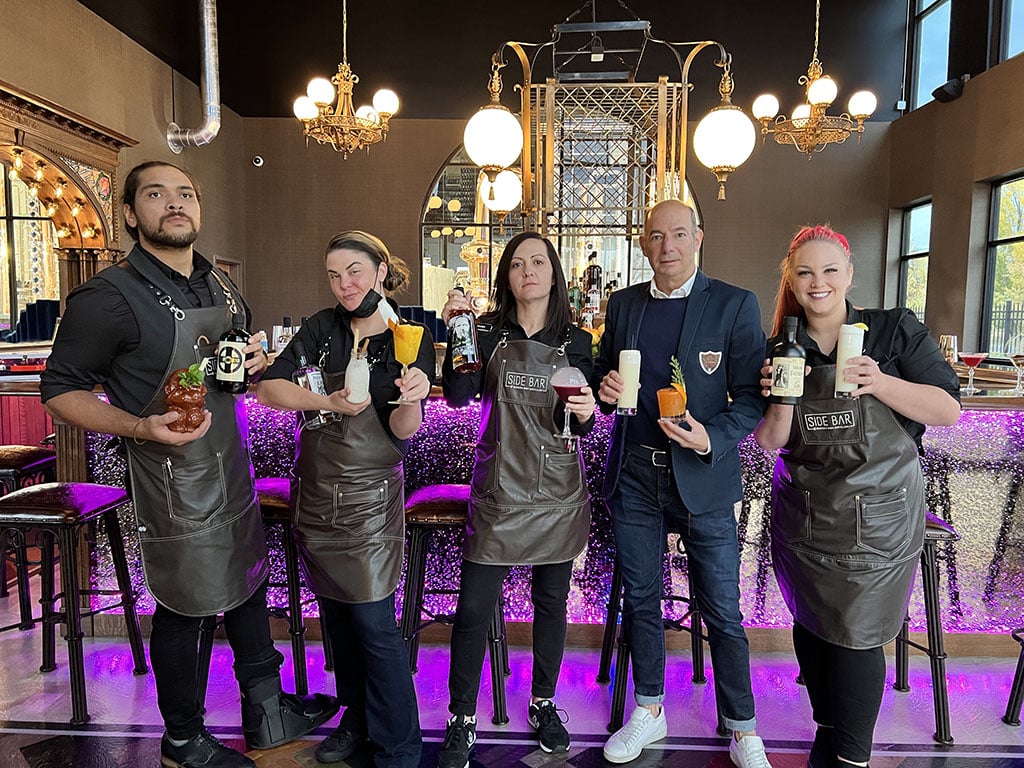 Ogdenites enjoy this fun new band looking for a scope. It is located inside the new Ogden's Own Distillery building, with a focus on cocktails and craft cocktails alike. The bar was one of the last recipients of bar licenses as prized as gold. In fact, since Utah tape licenses are swapped out on the open market for $50,000 and presumably weighs no more than a few grams of paper – it's already the planet's most expensive commodity by weight. Take this saffron, diamond and californium 252.
615 W Stockman Way, Ogden, UT 84401
(801) 458-1995
Trolley Cottage Cafe
It's showing up in our inbox only today, and it's as hot off the press as possible. Trolley Cottage is now open next to Skewered Thai and offers the perfect café menu for brunch and lunch. Breakfast staples like benedict, brioche, and burritos sit alongside lunches like salads and sandwiches. Prices range from $12 to $16.
703 E 600 S, Salt Lake City, UT 84102
(801) 419-0579
instagram.com/trolleycottagecafeslc/
almost
Azteca Café
This new western spot promises to open on November 13th.
900 W. 300 S. Salt Lake City, Utah
Fed up with the kitchen
The closed Freebirds site at Sugar House is due to reopen any day now. The new tenant, Fed Up Kitchen, has locations located in St. George and Draper; The business offers a range of takeaways, focusing on health first and foremost. Breakfast, lunch and dinner are served on their menu.
2120 S 1300 E, Salt Lake City, UT 84106
Flanker Kitchen
After failing to secure one of the aforementioned pub licenses during the DABC meeting in September, the massive builder at The Gateway went and bought one of the Legends – before it was sealed at the October meeting. This should mean that the concept will open their doors any day now.
We've previewed this image a bit, and needless to say, a lot of eyes are on the Vegas import. With that, plenty of big names, cash, and expectations come to fill the void now left by the dead as the dodo Punch Bowl Social.
6 N Rio Grande St, Salt Lake City, UT 84101
(801) 683-7070
flankerslc.com
Italian graffiti
Moving on to the vacated California Pizza Kitchen at The Gateway, this funky branded Italian eatery. The graffiti title should give the best indication of what to expect. why? Well, this is a sister company to HallPass' Graffiti Bao – the modern spin on Asian food. Both are run by Chef Marc Maroney in Vegas. If we were a gambler, my money would be on IG's trustworthy interpretations of Italian classics.
156400 Watts, Salt Lake City, Utah 84101
Laurel
Scheduled to open in December is the elegant-looking Laurel fragrance, found in the belly of the Grand America. Details are drying out for now, but we're told to expect European cuisine with a whirl of American fusion. Here's hoping this one brings some well-established French flair back to the streets of SLC, Confit, nicoise and hard-pressed aprons. I promised information very soon, and more news when I get it.
Martin's Café
I hope you heard the news, but here it is again. The luxury Martine Cafe in downtown Salt Lake, part of the Pub Group (Desert Edge Pub, Stella), is set to make a big comeback. The restaurant was spied on while hiring for a variety of positions, and was also recently approved for a full-service liquor license. And as I mentioned in that story, you don't get your hands on those if you're not serious about opening doors.
Old Cus SLC
A message from our writer Kristi about this new brunch and breakfast café arriving any day now. Here's what she wrote on IG, "You gotta check out a little bit of what's going on at oldcusslc and it'll make your mouth water so happy. It'll be the artisan espresso drinks you know and love right from the truck, plus a full brunch, coffee shop, mini bakery, antique shop, and more. brent'lee shared this mushroom Flavored with Mediterranean and olive oil and was absolutely delicious. I've never had a better pie, he makes a tangy sharp cheese from scratch, all vegan. He just needs a giant cookie for dessert."
Shinobi Sushi Bar & Grill
Intel came up with this from an attentive reader of the site and – as always – thank you all for thinking of me and letting me know the moment you see as much as a misplaced burger patty. Email me here with your tips. A shinobi should be here any day now, serving Japanese cuisine to the good people of the Marmalade neighborhood.
555 North 300 West, Salt Lake City, Utah 84103
(801) 859-2251
shinobislc.com
brewing shadows
Another tip from this month's DABC meet – Shades Brewing purchased a liquor license from Habitat in downtown SLC. Putting all the pieces together, it seems to me at a distance that Shades will replace Habitat (around the corner from Himalayan Kitchen) and open a new bar spot. I've reached out for comment and confirmation, and will update the post as soon as I hear back in my official capacity. Or you know, swing and let me know!
Update November 2, Shades has confirmed the following information with us:
The South Salt Lake site will remain open. It will be where we have a drink, as well as a beer to go to the store. We had to give up our taproom license, but hope to apply for a pub license at the end of this month and by December we can reopen the South Salt Lake location as a limited room. Our new location is in partnership with the owners of Himalayan Kitchen and Arempas Venezuelan Kitchen. We will have a full kitchen with a full menu – our menu will contain Himalayan food, Venezuelan food as well as American food. (Think mainly of tacos and hamburgers.) We'll open our doors for lunch and dinner, and at about 9 or 10:00 we'll move on to more of the bar bar to compete with Twist, Green Pig, etc. The new location is 366 S State St, above Chakra Lounge and Himalayan Kitchen!
tamarind
Thanks to Joshua Jones of the Downtown Alliance for this piece and the lowdown on this new Vietnamese spot. Jones writes, "Two lawyers are filling their dreams (no sadness allowed). North Beerhive, Tamarind will start serving Vietnamese cuisine in the next two weeks. Perfect timing for a big, warm bowl of Pho, made from a secret family recipe."
Mountain View
Finally. Just to make things crazier than ever. How about fifteen other restaurants. Yes, you read that correctly. ABC4 reports a massive new development coming to Riverton Mountain View Village. ABC believes more than a dozen restaurants will be part of its new retail options, including "the first five to be marketed in Utah" including:
Kona Grill
Korean Shabu Jin Experimental Barbecue
Silverlic Ramen
Stack 571 Burger & Whiskey Bar
Organic and sustainable seafood from WildFin
Reads like what about general trends. Expect Bubba…
Previously mentioned without further update
We've written about the following new restaurants in recent posts that track new restaurants around SLC. We haven't heard any other news about these at this time:
Opening a new restaurant in Utah? Be sure to check out the Utah Micro Restaurant Business resource site and the services you'll need to help you open your restaurant.
keep talking
Want to stay on top of the SLC food scene, minute by minute, dish by dish? Here are some other places to follow:
Hi, I'm Stuart, nice to meet you! I am the founder, writer, and wrangler at Gastronomic SLC; I'm also a former restaurant critic for over five years, working for the Salt Lake Tribune. I've worked extensively with many local publications from Visit Salt Lake to Salt Lake Magazine, at least helping to consult on national TV shows.
I'm a multi-award winning journalist and have covered the Utah dining scene for the better part of fifteen years. My critical obsession with rice and alliteration and the use of big words that I don't understand is largely fueled by me. What they say about me: "Not inaccurate," "I thought he was older," "I don't share his feelings."
This article may contain content provided by one of our paid partners. These are some of the best companies in Utah. For a list of all our current and past relationships, see our Partnership History page.