More storms, more burning zones
After Quincy's well-taken scratch, Build-a-Bear and I go back to the burn area. Rain and thunderstorms are expected so we are booking them. Songbird follows us as we make our way to Belden. In front of us we can see dark clouds. It will surely start raining on us.
Nice little lunch break is taken in Belden. There is still a lot of sun above us at the moment, but soon these dark clouds will make our location. We go ahead and it's time to go up. The climb from Belden is one of the most difficult as it is very long and steep.
The rain starts immediately and thunder can be heard roaring ahead. On our way up, we meet the trail crews who have worked twice to clear all the burning areas. Because of their hard work we can pass these sections. We also meet a very nervous and defensive Mama's hawk that is known to dive aggressively towards hikers, it just does its job to protect its nest.
Finally we make it camp, it's not the best tent site but it will do all night. Burn areas make it difficult to find a suitable tent site. Most of the trail is covered in ash and with a load of dead trees around it makes it a hazardous setting. You just have to settle all that is available here.
Azul realized what he had missed the next morning. Those who camped right in front of us seemed to have fallen snow. We're two days away from the solstice and we're still dealing with snow. This has been a strange hiking season when it comes to the weather. We have dealt with all this at this point. Finally at the top of the climb we see a mountain in the distance, it is Lassen. We set up the camp with a perfect view of the peak that lies ahead.
Halfway to Canada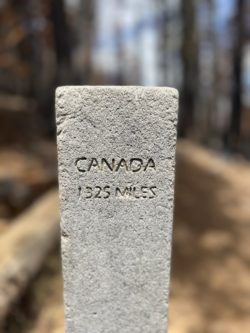 I'm awake in a great mood. We are going to hit a very important milestone today. There are only 8 miles left until we reach the PCT midpoint. As I climb, I've been thinking about the first half of the track. I have matured physically and mentally. I feel stronger than ever and when I reach the memorial, I feel a real sense of accomplishment.

I sit down and take a minute to eat it. It's really something you should be halfway through. I know the second half of the track will be faster, the speed will go up and the miles will double. I wish I could stay in this moment longer. There are still miles to do today, so I'll be traveling to explore the second half of the PCT.
It is completely sloped to the highway. It goes fast, feels three times my pace, I'm used to it and before I knew it I was on the highway. I can see burning all around me. This community has been deeply affected by the Dixie Fire, and I am at heart. I hit the road and within minutes I was in Chester. My plan was never to go into town, but the Angel of the Trail is able to greet us.
In town, I catch Fat Roll, Azul, and Build-a-Bear. We eat a quick bite before being picked up every night by Michelle, who hosts hikers with her husband, Sean. These amazing angels take us to their beautiful home, serve us dinner, and have a hot tub! It's a perfect way to end the day!
Well rested, we're up for breakfast! I'm ready for what's to come, we're headed to our next national park! It's a nice quiet morning, we get all our gear ready and we're off. It's going to be a hot day, but due to the rules around Lassen National Park we'll have to go a low mile day, so there's very little stress.
Lassen Volcanic National Park
In order to camp in Lassen Volcanic National Park, you must have a bear pack. It's only 19.1 miles, so of course we'll be hiking straight and not camping. There is no point in sending a bear that can only advance 19 miles. It is located 15 miles from the border, so our options are to either hike 15 and camp at the border or hike 34 and hike through the park. We choose 15.
It's a very relaxing day to nap by the rivers and take our time to get to the camp. Again, 15 miles is almost nothing for us now, so no need to rush. The camp was reached and of course we returned to a burnt area full of mosquitoes. These burn areas were rough, but our night in Chester helped freshen ourselves up before this section.
Finally we enter Lassen! Everything is burnt. It is quiet. The park is empty, it's something I've never seen before. All we can really do is walk through it. With everything closed and burned, there is unfortunately no reason to stay in the park for long.
We hit some of the many lakes that Lassen has to offer and for a brief moment the path looks natural. It's refreshing. It's a hot day and we've entered the final stage, I made a mistake not getting water and the last water source. I entered another burn area, it's flat, but it's bare and I'm about to run out of water. Fortunately, I am able to catch some hikers so I can avoid some.
I got to the end of the park and also the end of the burning area. It is a relief to see the green trees all around me. It is also convenient to see a beautifully flowing creek near the pass. It was getting late and we finally got to the old station. This small RV park is a great place to spend the night. I am relaxing. Tomorrow will be another hot day
flat and hot
It's an early morning, but it's already very hot. The only good thing is that this section is flat. There is no climbing but water carrying is a problem. I prefer to hike later in the evening so we decided to do some side errands along the way. There are a lot of great things to see about this section.
First stop, subway cave. Really cool cave system is small but the low temperature is perfect! I could stay there all day, but there's more to see along the way. We only have one small climb today, and when we reach the top we can see our next destination, Shasta! it's a beautiful view.
Our next stop is Trail Angel Cafe. A trail angel created a small oasis among the tall water load. Offers cold drinks and a shady place to hang out for as long as you like. It's exactly what we need on this hot day! We ended up spending almost 5 hours here, bringing the temperatures down. Hiking the Hat Creek Rim in the evening is the only way to truly enjoy it.
There is little chance of thunder and rain tonight so we book it camping. Another water bunker has been placed between the Trail Angel Cafe and Burney. It's a good place to spend the night, it's 17 miles from town which I prefer to do in the morning.
We're up and it's very hot right away. It's only 17 miles, all flat, but all exposed. The heat is starting to get to me. I am forced to take multiple breaks in the water. Hard to squeeze. Fortunately, there is an oasis not too far away! And when we emerge from the exposed fields, the green river and lakes reveal themselves. We are approaching the city!
Bernie, reflection
After a long, brutal day I hit the highway. I got lucky again with a quick malfunction, the AC in the car is just what I needed. This last stretch was one of the most mentally draining things ever. Between the exposed burning and heat areas, I had a moment of weakness, where I felt a little defeated. It was finally back in the lush green forests that I knew I could push through anything.
Hiking isn't always fun. Every day is a challenge. We are facing many difficult moments. Some of them make you almost give up. But when you get to the end of the climb, the end of the hot day, when you get to camp at night, it's well worth it. The things we experience here are unlike anything else. When I saw this first sign of the water after a long, hot day it made me realize how much I enjoy hiking.
The Triple Crown was a dream, which I wasn't sure of at first, but now I realize that's what I'm going to achieve. This track has made me feel the happiness that I seldom feel. The reward after a long day gave me a lot of confidence and strength. Getting to Bernie after that mentally exhausting clip really made me more hopeful and stronger than ever.
Arrived in Burnie. The city is a great place to rest from the heat. The local church picks us up at no cost, and there's a whole bunch of hikers here. Lots of new faces as I meet my old friends. Tomorrow is expected to be the hottest day of the year yet. Zero will be necessary, this heat wave is not a place for a park.
It's zero from doing absolutely nothing. It's so hot that you can't do anything at all. I nap and eat ice cream most of the day. This heat wave will last for a few days and unfortunately we will have to go out there, for now although we can finally rest and not think about it until morning.