Chilled Roasted Eggplant Soup
to equip 10 minutes
cook 35 minutes
Cold 2 hours +
serve 2
4 large eggplant (about 1 kg)
3 red romano peppers
4 garlic clovespeeled and powdered
juice of 3 lemons
6 1 tablespoon extra virgin olive oilplus an additional 4 tablespoons until the end
100 gm peeled walnutscrushed
1 tablespoon of pomegranate molasses
1 teaspoon Turkish hot pepperSuch as Paul Pepper
Salt and black pepper
1 teaspoon dried mintto end
Turn the grill on to the highest setting possible (or turn on the grill). Place the eggplant and peppers on a griddle and grill, stirring often (or grill directly over charcoal), until completely charred and soft on the inside – peppers will need 5 to 10 minutes and eggplant 15 to 20 minutes. Remove from heat and set aside to cool.
Once the vegetables have cooled enough to handle, peel off the black skin and remove the stems, seeds, and pulp from the peppers. Lay the eggplant pulp on a tray for five to 10 minutes, during which time any juices will seep from the inside.
Give the peppers and eggplant pulp a quick chop, then put them in a food processor along with the minced garlic and blend for just four or five seconds—you're after a lumpy, not smooth consistency here.
Put them in a bowl, add the rest of the ingredients and 500ml of cold water, then whisk the mixture, keeping this lumpy consistency. Check the seasoning, let it cool for at least 2 hours, and serve with a sprinkling of dried mint and a drizzle of olive oil on top.
Grilled sardines wrapped in grape leaves
to equip 10 minutes
cook 15 minutes
serve 2
for fish
Salt and black pepper
6 medium sized sardinesscaling and blushing
6 fresh grape leaves – If you can't get any, use pickles in jars from Turkish and Middle Eastern food stores
Sun flower oilbrushing, for cleaning
for power
200 gm cherry tomatoesHalf
1 tablespoon of capersdrained (or washed if packed with salt)
1 medium red onionpeeled and coarsely chopped
3 tablespoons maiden olive oil
1 clove garlicpeeled and powdered
1 tablespoon red wine vinegar
Season the fish generously inside and out, then wrap each fish in a grape leaf, leaving the head and tail uncovered.
Put all the salad ingredients in a bowl and let it soak.
Heat a frying pan on the stove (or light a roast). Brush the wrapped fish with sunflower oil, then place it in the hot skillet and let it cook for three to four minutes on each side—you want some caramel on the vine leaves. Transfer the fish to a plate and serve with salad, preferably with a glass of raki.
Spicy bulgur salad with tomatoes, hot peppers and sour cherries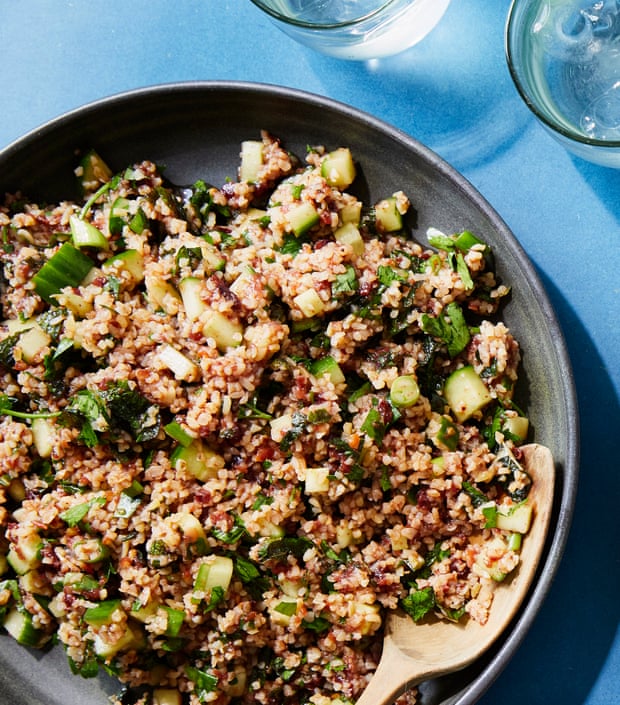 to equip 15 minutes
soak 1 hour
serve 2
1 large beef tomatocoarsely chopped
250gm sour cherry (fresh or frozen), pitted – if you can't find sour cherries, use extra beef tomatoes instead
125gm fine bulguryour wheat
1 green oniontrimmed and chopped
1 English optioncubes
1 clove garlicpeeled and powdered
30 gm fresh mint leavescoarsely chopped
30 g flat-leaf parsley leavescoarsely chopped
1 tablespoon of pomegranate molasses
1 teaspoon sumac
juice of 2 lemons
1 tablespoon hot pepper
1 tablespoon bell pepper
50 ml extra virgin olive oil
1 teaspoon ground cumin
Salt and black pepper
Put the tomatoes and cherries in a blender, and blend until smooth puree. Put the bulgur in a bowl, add the bulgur and 100ml of cold water, and leave it to soak for about an hour, until the bulgur is softened and chewable. Transfer the mixture to a serving bowl, stir in all remaining ingredients, season to taste – it should be fresh and a little tasty – and serve as a side dish.