by Todd Habiger
[email protected]
KANSAS CITY, KS – The Leaven may be a small paper in terms of staff size, but it mustered a huge boost in the Catholic Media Association's annual journalism competition on July 7.
The Leaven has won 18 CMA awards, including seven 1st place awards and 3rd place for best weekly newspaper with 1-5 full time employees.
Father Mark Goldacic, editor of The Leaven, was thrilled with the newspaper's awards and noted the change in this year's awards competition.
For the first time this year, instead of The Leaven competing with newspapers of similar circulation, we competed with newspapers with a staff of the same size. Which really gave us a chance to shine, I think."
Reporter Moira Collings was the top winner of the night with seven awards.
"What a pleasure to see Moira, who is also our Social Media Editor, break out this year with six writing awards! What a testament to her versatility," said Father Goldacic.
Cullings' essay, "It's a Very Raw Experience," was a huge hit with the judges, receiving three first-place awards in the categories of Best Feature Writing, Best Report on Social Justice Issues and Best Story and Photo Package by two or more singles. (She shared this latter award with freelance photographer Kathryn White.)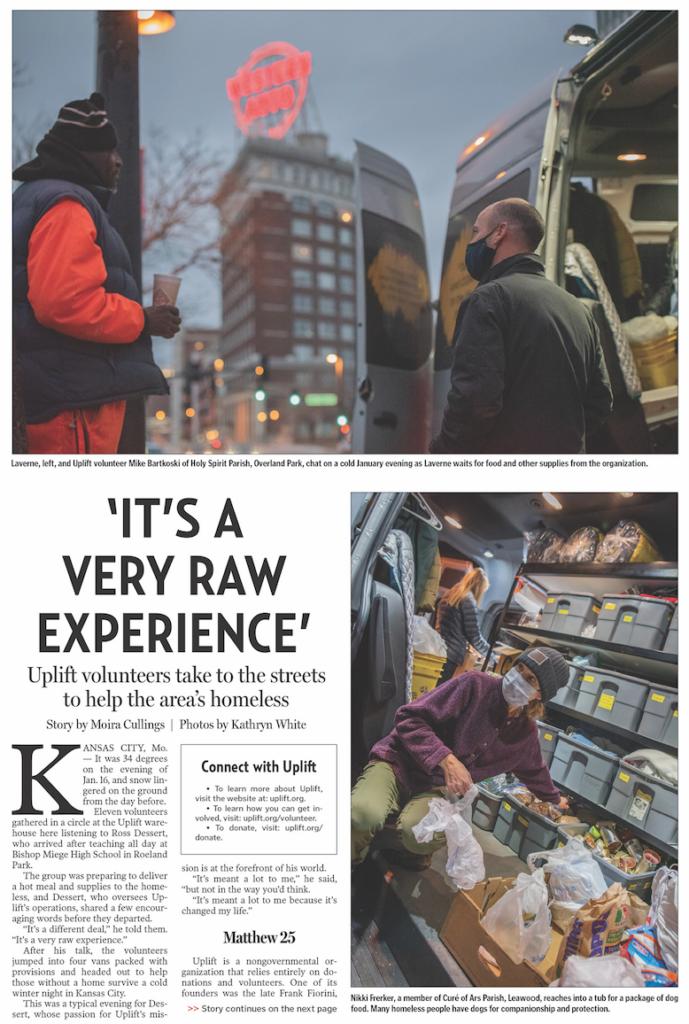 "It's a very raw experience," he chronicled the work of Uplift, an organization that provides meals and supplies to the homeless in Kansas City.
The judges wrote: "Most readers have never been, or will be, homeless. Moira Collings' article takes readers into the streets of homelessness and provides us with the experience of those and volunteers."
Collings said the story was special for her because she saw the hard work and passion that the Uplift volunteers put in.
"Some stories never leave a writer," Collings said, "and a 'very raw experience' was one of those stories for me." "I still think of the situations I witnessed when I followed Ross Desert and his team of volunteers on a path to serve the homeless.
"I can tell from speaking with Ross and watching him work that volunteering at Uplift wasn't just something he did aside. It was a passion he cared deeply about and he would do anything for. He didn't judge the people he served – he simply loved them."
Leaven's Freelancers have been a big part of The Leaven's strong showing. Freelancers Karen Bonar, Jill Raggar Esfield, Therese Horvat, Jay Soldner and Catherine White have received awards for their work at The Leaven.
"The only way we can produce a paper of this quality with so few people is with the support and contribution of so many wonderful freelance translators. Managing Editor Anita Maxurley said:
Bonnard was rewarded for her efforts in documenting the return of Father Emile Capone's remains to his Wichita Parish home. Its multi-story and photographic package took first place in the Best Analysis/Background/News Report category.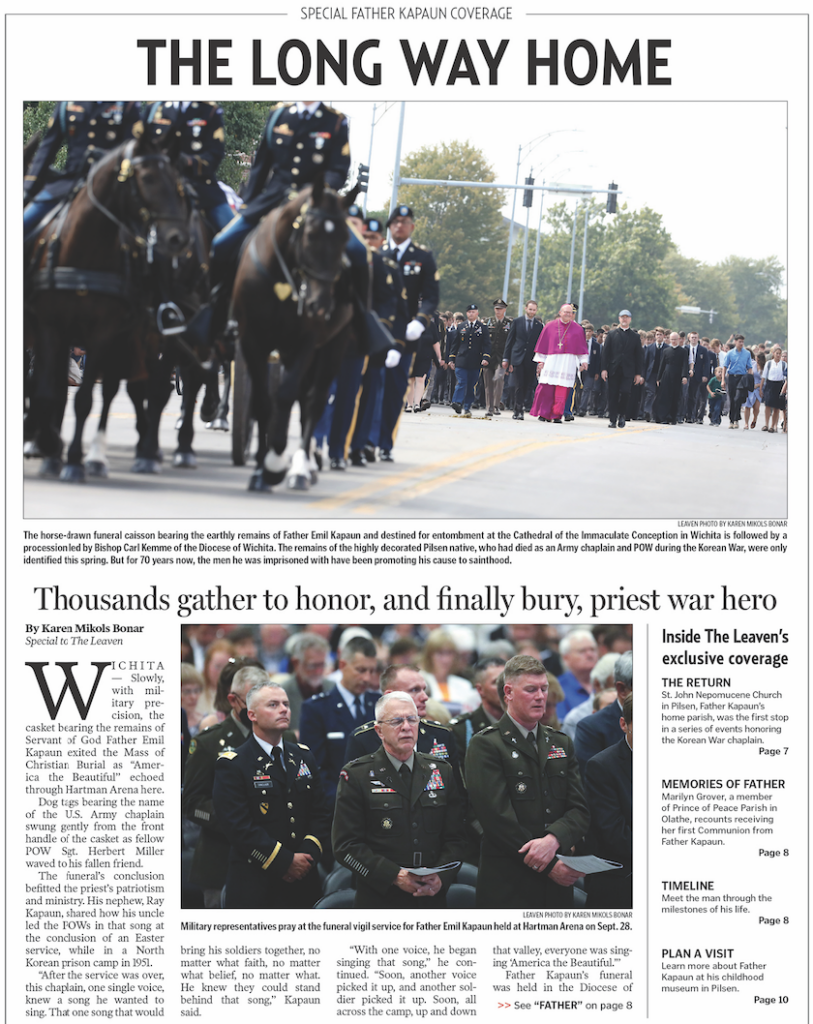 Bonar grew up in the Wichita area and attended Capone High School, so the news that Father Capone's remains had been found was heartbreaking for her.
Several events related to Father Capone's remains occurred over the course of five days. Bonar was there for them all.
"I knew there were going to be long days. I knew it would be physically exhausting, but I underestimated how emotional the experience was." "My friend Travis Heing is a photojournalist for Wichita Eagle. He's been covering this story for years. When I finally entered the church in Pilsen, after much of the crowd had calmed down, I saw Travis in front, in tears. This is a man I respect a lot and who has very high professional standards." And he was standing at the foot of the altar weeping.
In an article titled Be Brave, freelance journalist Raghar Esveld told the story of Elinor Schwartz who was one of the first women to communicate with aircraft during World War II. This article won 1st place for best profile and got an honorable mention in best report in the special age group category.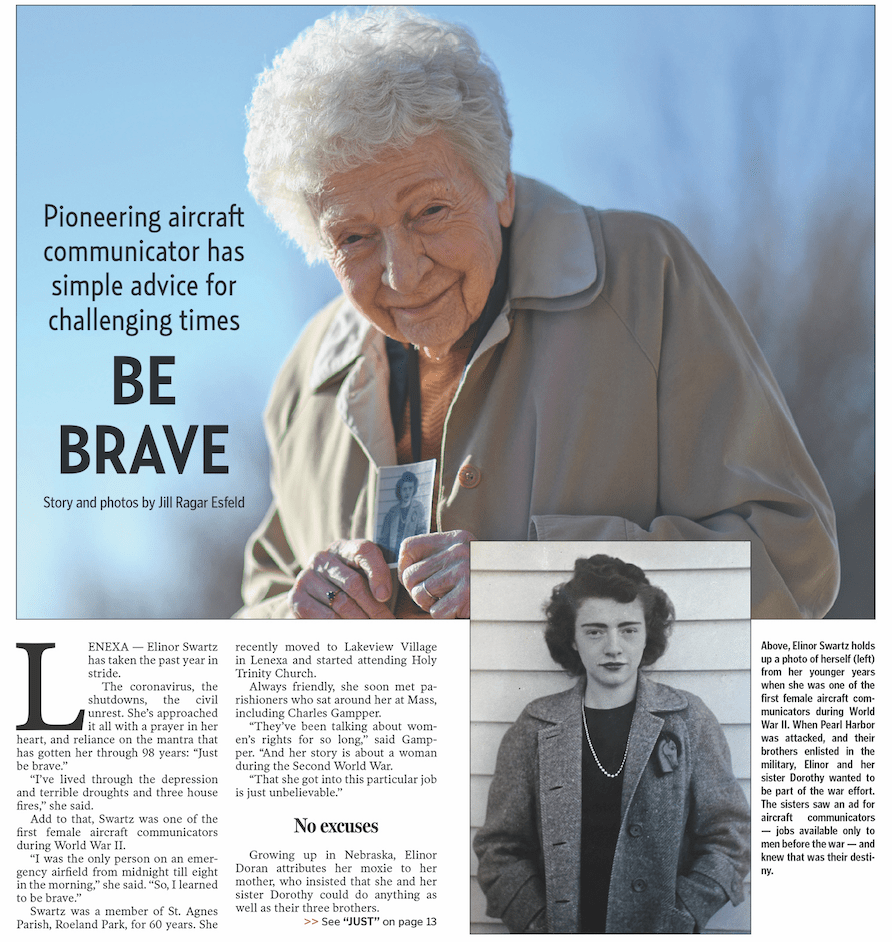 "I'm so glad I was able to tell Elinor's story in a way that lets people know how incredibly brave and forward-thinking she is," Raggar Esfield said. "It wasn't difficult – she was very talkative and attractive. Women are such an important part of our history. Their stories should be told. I am so glad I was able to tell Elinor."
For his collection of photos of Catholic schools participating in the state swimming meet, Soldner took first place in the Best Multi-Sport Photo Package category. The judges were impressed by the variety of images and angles he was able to get from the event.
"The hardest part about shooting the state swim meet is staying creative for the duration of the event — while tackling the water all around," Soldner said. "I usually wear shorts and bring some microfiber towels with me. I know I'm going to get wet, but if that's what it takes to get the shot, I'm all for it."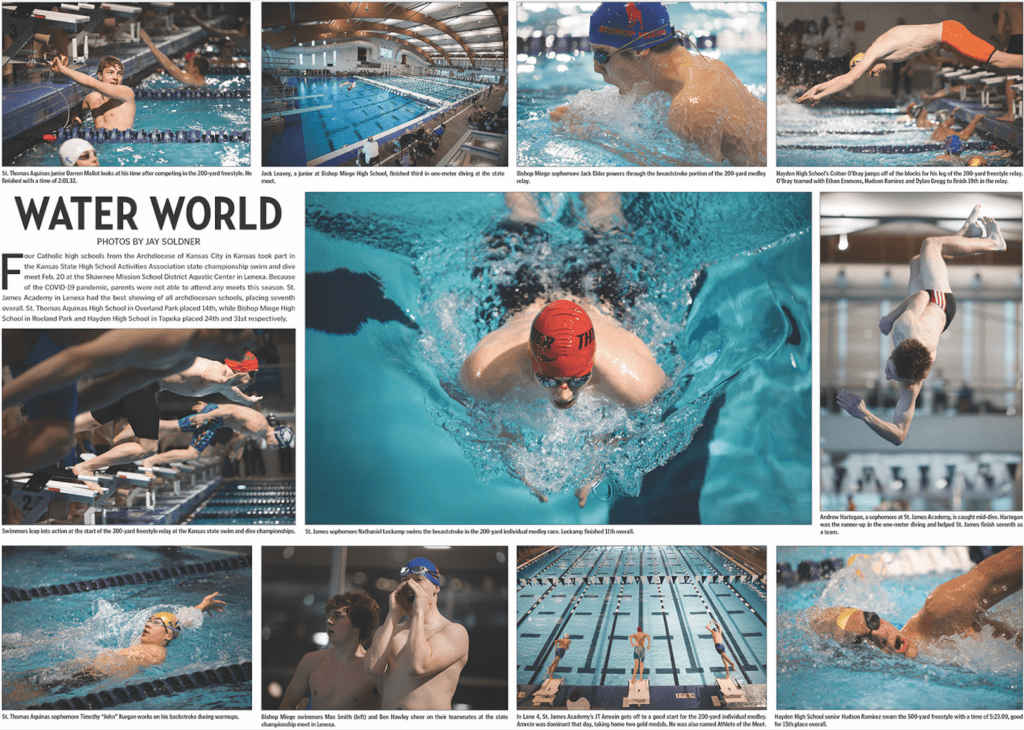 Catherine White has attended the National Catholic Youth Conference several times as Youth Minister, but 2021 was the first time she covered the event as a journalist. Her efforts at NCYC were recognized by the CMA where she took first place for Best Multiple Image Package – Feature.
"Images effectively and creatively tell the story," the judges said. "The photo package depicts the myriad elements of the event as well as the fun energy, purpose and accomplishments achieved."
White felt that her time as Minister of Youth helped her capture those faith and emotional aspects of NCYC.
"As a former youth minister, I've been taking large groups of students to the NCYC," she said. "Being a photojournalist versus being a youth minister had its perks and challenges. Representing the entire diocese, I strived to reach out to attendees from each diocese (not just my diocese) several times a day in order to capture how the teens participated and prayed during the conference."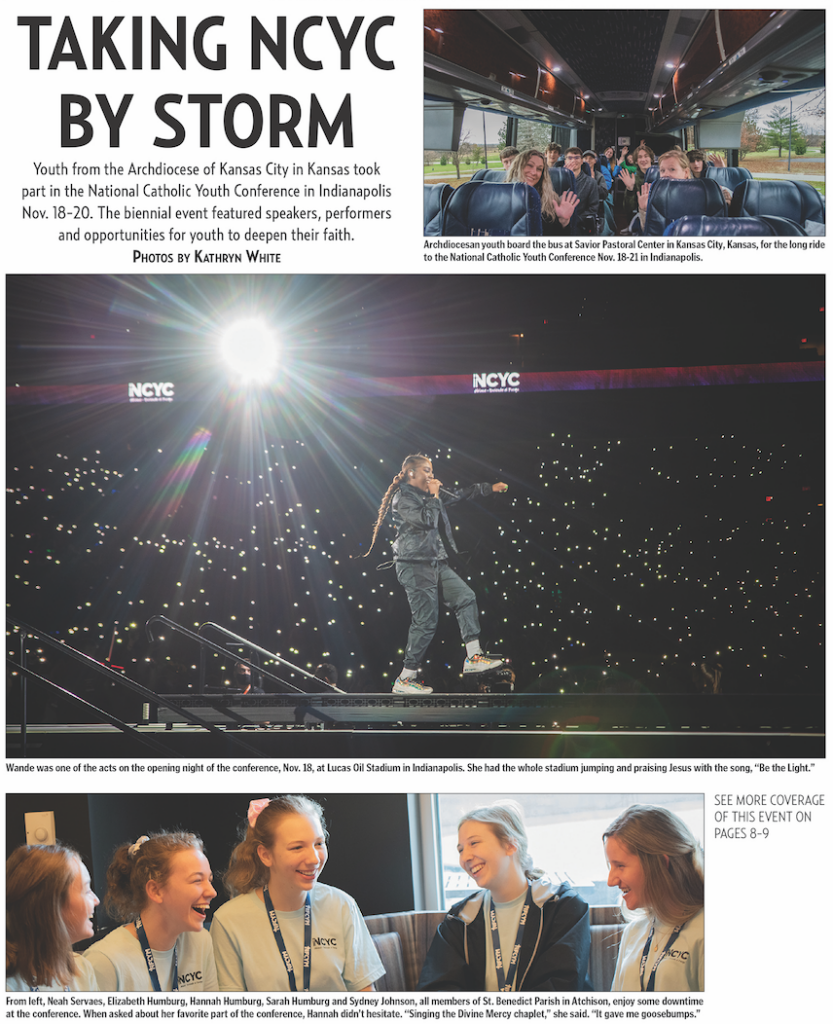 The judges praised a series of articles by Therese Horvat under the slogan "Anti-Semitism" for being "an impressive collection of articles". This package won two runner-up awards for Best In-Depth News/Special Reporting and Best Analysis/Background/Round News Writing.
"Everyone should read this," the judges said. An in-depth historical presentation of the challenges between Christianity and Judaism. The writings are well researched, presented clearly and informative."
It was a challenge to squeeze two thousand years of history into its final form, Horvat said.
"This feature took a lot of time to research, organize and install while keeping the final product engaging and easy to read," she said.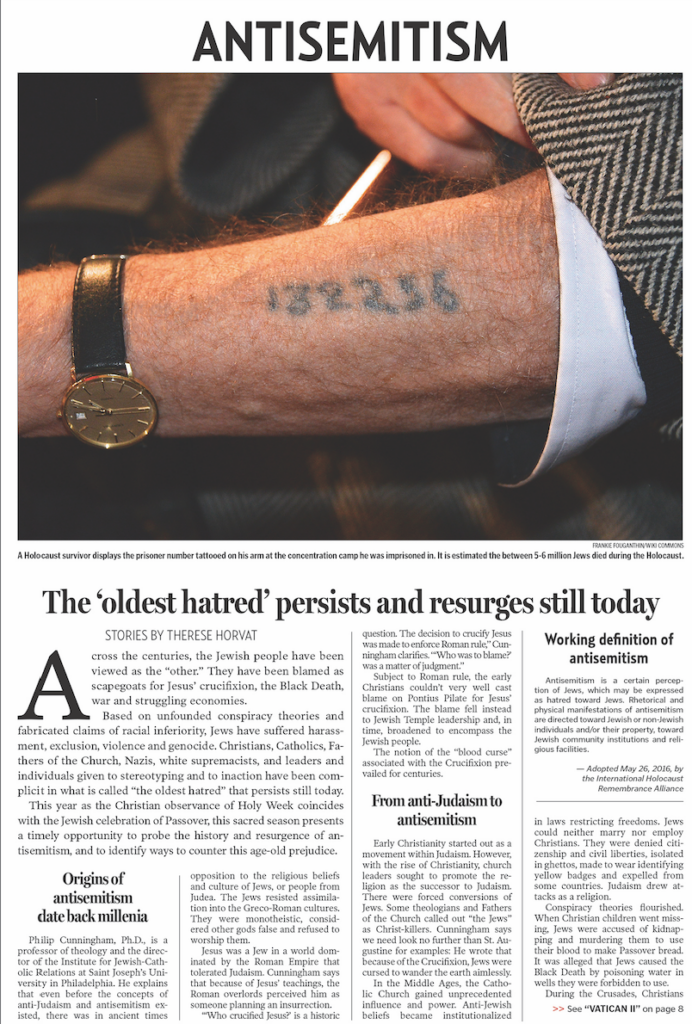 She added that she hopes readers will learn from her stories and respond with love.
"As Christians and Catholics, we are called to love one another, and as individuals, we are called to make choices that respect the lives and dignity of all people – despite history and popular sentiment," she said.
In the Best National One-Shot Writing Event category, Cullings took second place for her story, "20 Years After 9/11."
Cullings was a third grader at Cradle School in Lloyd when the 9/11 terrorist attacks occurred and he remembers being on the playground watching a plane turn around and head back toward the airport. This scene was captured by a photographer in the cradle and the photo was published in The Leaven.
"It was great talking to the teachers about what happened in their schools that day and comparing how similar the events were to what I lived through. I felt comfortable celebrating the 20th anniversary by sharing the stories of people who were uniquely affected by 9/11."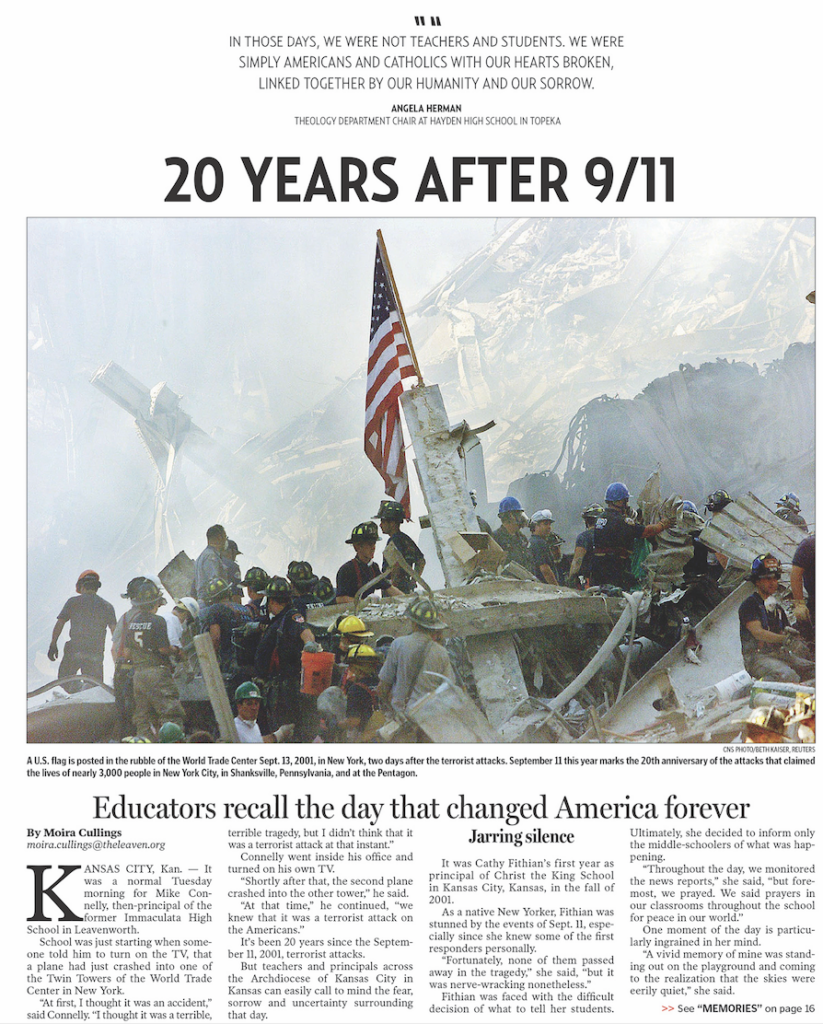 In other awards, Bonar was ranked third for her story, "Rebooting on Life," which told of how Tami Drake-Gannon found religion in prison and a religious community in Sacred Heart Parish in Sabtha.
Cullings and Soldner shared a third place award for Behind the Scenes, which gave readers an inside look at how Camp Tekakwitha comes together each year to give campers a faith-filled experience. The movie "Behind the Scenes" also received an honorable mention in his book "Best Main Writing".
Another third place award was awarded to Todd Habiger in Best Sports Journalism for his story about blind sprinter Judd Nixon, age 9, his guide and his mother, Joanna. Habiger also received an honorable mention for Best Front Page.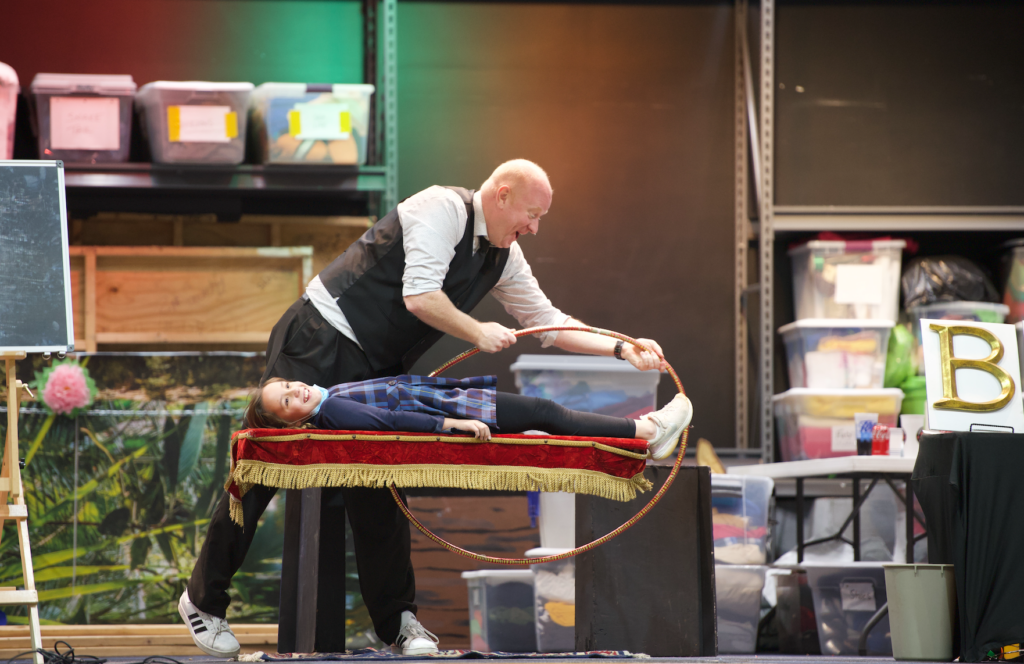 Finally, Cullings culminated in an excellent performance at the CMAs by taking an honorable mention in the Best Featured Image category for her photo "Magic," which shows Scott Henderson performing a flying trick with Nativity School, Leawood, and fourth grader Alexa Hancox.