Farmer x Baker
Spinwall
The crew at Farmer x Baker, an outdoor café located on the banks of the Allegheny River in Allegheny RiverTrail Park, went up seriously this year. They use local oats to make their own vegan oat milk, available in a rotating menu of seasonal flavors, like lemonade, carrot cake, olive oil, hibiscus, organic rhubarb and sorrel (a herbaceous plant with a bit of seasonal flavor). sour taste).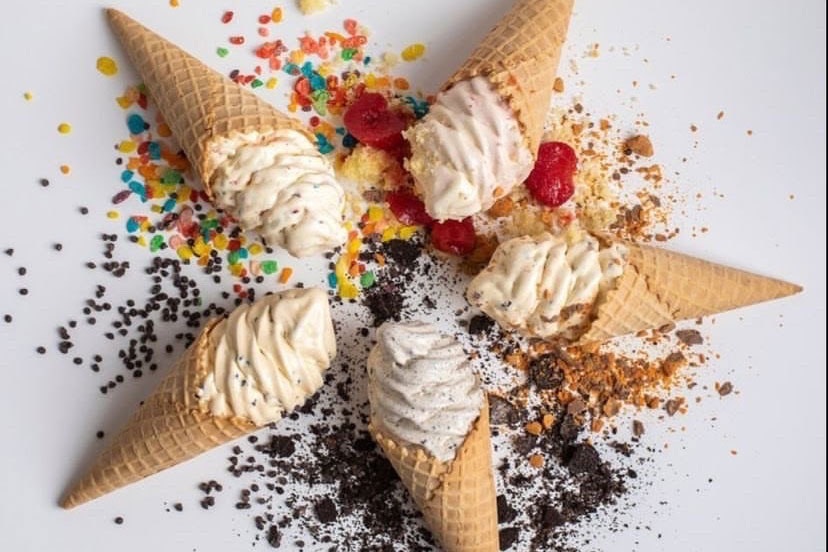 the page
south side
Is it summer in Pittsburgh if you don't get a cone at Page's? This South Side establishment has more than 30 flavors of hand-mixed soft food on its menu each day, which can also be made dairy-free. Some of the more popular soft-serve flavors include Peanut Butter, Fruity Pebbles, Blackberry, Pistachio, Strawberry Cake, Cookie Cream, Toasted Coconut, and (for a limited time) raspberry, made with fresh berries.
4112 E. Carson Street
---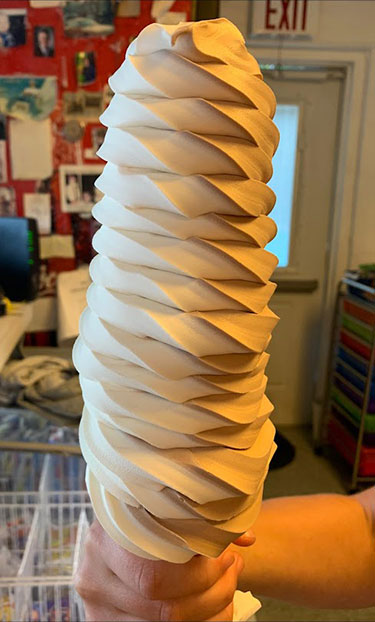 Al Kun District
Clairton
This beloved seasonal window ice cream (usually open from March through October) features classic smooth swirls in chocolate, vanilla, and rolls—available in cups and cones. They also use their soft serve to make milkshakes, sundaes, juices, banana splits, and dipped cones with flavors like cherry and chocolate. You will also find Dole Soft
Serve on the menu all the time, with a flavor (everything from pineapple to pomegranate) that changes every four or five days.
1211 State Road 885
---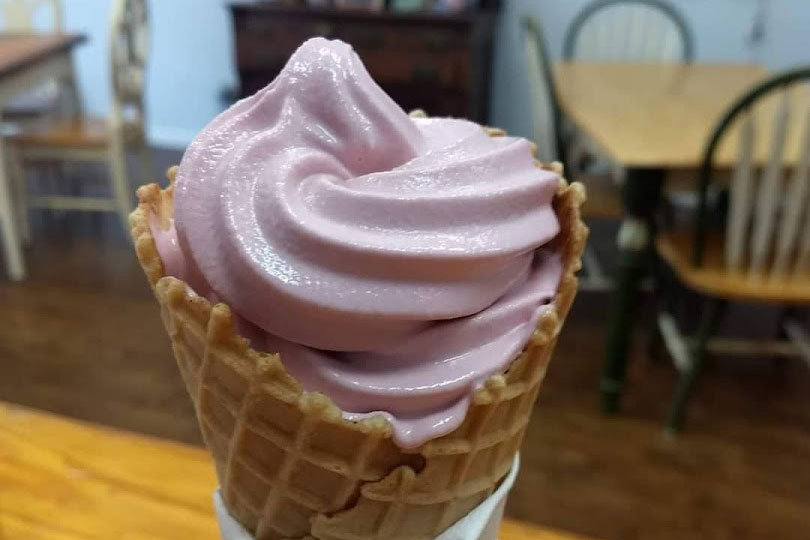 Sweets for Mrs. J
Monongahela
Mrs. C Sweets, a year-round ice cream shop in Monongahela, has over 35 different flavors of ice cream on the menu. The Chocolate and Vanilla Soft Serve bases come from Turner Dairy, and the shop adds natural flavor extracts to the soft vanilla serving to make flavors like cheesecake, black cherry, and amaretto. During the mixing process, much of the air that you would find in a regular mushy serving is removed, giving Mrs. C's desserts a custard-like texture and taste. Toppings are also available, as are specialty sundaes, like the store's popular Prancer Pretzelberry Prize sundae, with a mushy serving of strawberry cheesecake, topped with a strawberry topping, pretzels, and graham cracker crumbs — take on the classic strawberry pretzel salad.
260 West Main Street, Monongahela
---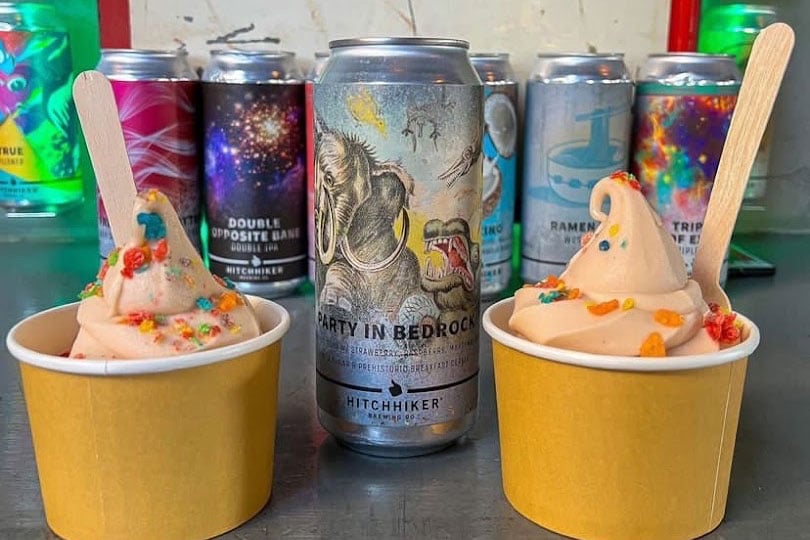 mobile fermentation
Sharpsburg
Light alcoholic service is a signature menu at Hitchhiker Brewing's Sharpsburg taproom. The flavors change weekly, often to match the beers they came out with that week, with modern flavors including Party in the Bedrock (fruity cereal, raspberry, strawberry, marshmallow, vanilla and beer), limited mix (coffee, peanut butter, chocolate and stout), and vanilla with IPA. They are available seasonally, from late spring through early fall.
1500 Canal Street.
---
Alta Via
Ohara
Alta Via Pizzeria
Bakery Square, Larimer
Think of it as an elevated soft serve. Alta Via's soft gelato (available at both locations) is made in-house daily, and every restaurant usually has one or three flavors rotating at any one time. Vanilla is usually almost always on display, and other flavors include everything from chocolate and pistachio to vegan sorbetos, such as black cherry, blood orange, strawberry, peach, and blackberry.
46 Fox Chapel Street and 6425 Ben Avenue in Bakery Square
---
Happy Day Sweets Factory
The northern side
You'll find both creamy and fresh dairy-free custards served at the Happy Day Dessert Factory in the North Side's Allegheny West neighborhood. Their soft serve is made with almond milk and comes in chocolate, vanilla, or twisted, and their custard can be served on its own or with one of the fruity water ice. They also make over 30 toppings for their lighter sundae, including crumbled cookies and candy bars.
906A Western Ave.
---
Dare Delight
Swissville
Historic Dare Delight in Swissvale (which It reopened last year With the new owners) uses traditional vanilla, chocolate and soft rolls to make some truly stellar ice cream. Look for classics like mint Oreos, seasonal delights (Peep Sundae with mallow ice cream and pink sprinkles were a hit this spring), and specialty baked goods creations, like gluten-free rhubarb bars, from local bakery store Confections by Casey Renee. Soft-serve is also available in gluten-free cones, topped with hard dips, in Dreamies (topped with mango, passionfruit, or raspberry-lemon juice) and in popular root beer floats. And if you're really looking for something really decadent, order the Boston milkshake, which is your choice of sundae over your choice of milkshake.
1990 Monongahela Ave.
---
moon burger
Dormont
If you are one of many, many Pittsburghers who miss Millie's Homemade Ice Cream pop-up in the bakery yard, you're in luck. Late last year, Millie's teamed up with Moonlit Burgers to bring their all-natural juicy meals, made with dairy from Twin Brook Dairy's heritage cattle breeds, to the Dormont burger. Flavors change regularly, but you can usually find chocolate and vanilla, as well as a dairy-free option made with coconut cream — for now, it's mango.
1426 Potomac Street.
---
Emerling Ice Cream
Chiswick
Chocolate, vanilla, and fluffy rolls are always on the menu at Emmerling Ice Cream, as well as two swirly flavours, which are turned off every Monday. Popular flavors include banana, blackberry, and chocolate peanut butter. All of Emmerling's ice cream creations—milkshakes, sundaes, and Twisters (made with everything from cookie dough to crushed peanuts), are made using their soft serve, too.
932 Road 910
---
This story was produced in partnership with GoodFoodPittsburgh.com.