The Impossible Foods brand is launching two new types of plant-based meats designed specifically for K-12 school lunch menus. With the new products, the brand aims to provide students with nutritious plant-based alternatives to their favorite meals that would otherwise be made from animals.
At the School Nutrition Association's annual conference in Orlando, Florida this week, the brand is launching a fully cooked Patty Impossible burger, making it easier for school cafeterias to serve up nutritious plant-based school lunches. Designed specifically for K-12 cafes, which typically need cooked food to be reheated rather than cooked from raw ingredients, the New Precooked Pie provides a balanced nutritional profile and Child Nutrition (CN) label to meet the nutritional needs of young adults.
Fully cooked Impossible Burger patties can be easily reheated in a variety of ways depending on the facilities provided in each cafeteria, including in a convection or conventional oven, on a nonstick tray, in the microwave, or in a TurboChef Tornado (cooking often used in service kitchens). the food).
In addition to the new fully cooked pie, Impossible Foods is also previewing its new Impossible Whole Grain Chicken Nuggets at the School Nutrition Association's conference. The new cuts, which will be launched in the second half of the 2022-2023 school year, offer the same flavor as the brand's original Impossible Chicken Chunks but offer five grams of fiber per serving due to the whole-grain coating.
Plus, the new whole-grain nuggets provide 13 grams of protein per serving and 40 percent less saturated fat than traditional animal-based chicken nuggets.
"It is great to see more states and school districts leading the way to introduce vegan meals to school lunch programs. We created these new products so students don't have to give up their lunchtime favorites in order to have well-balanced vegan meals at school," she said. Laura Kleiman, Impossible Foods' director of new product development, tells VegNews.
California is investing in vegan school meals
The launch of new, child-friendly Impossible Foods products follows a historic $700 million investment by the State of California to support vegan school meals across the state. As part of the budget, $100 million will be used to support schools in purchasing plant-based foods, as well as sustainably produced foods, California-grown foods, and foods to meet students' nutritional needs. An additional $600 million will be invested in upgrading school kitchen infrastructure and in training and compensating food service workers, who will be tasked with preparing new vegetarian meals and increasing scratch cooking.
"I am very excited to see vegan school meals included in this year's budget. Having this optional program for schools, in addition to their existing meat and dairy menus, will allow for a comprehensive selection of our students," said association member Adrien Nazarian (D-Van Nuys) in a statement. Many school districts in our state have a large number of students who require or want vegan or restricted diet options and can't afford the sometimes high prices. This year's budget is a major step towards enabling schools to respond to the needs of their students."
The new funding follows a years-long effort by Association member Nazarian, school districts, parent groups, and nonprofits in the environmental, health, and animal rights sectors, to implement a new program (AB 588) that will incentivize California schools to expand vegan options. Under the program, government funding will be used to reimburse K-12 public schools for the costs of expanding their vegetarian food and beverage offerings.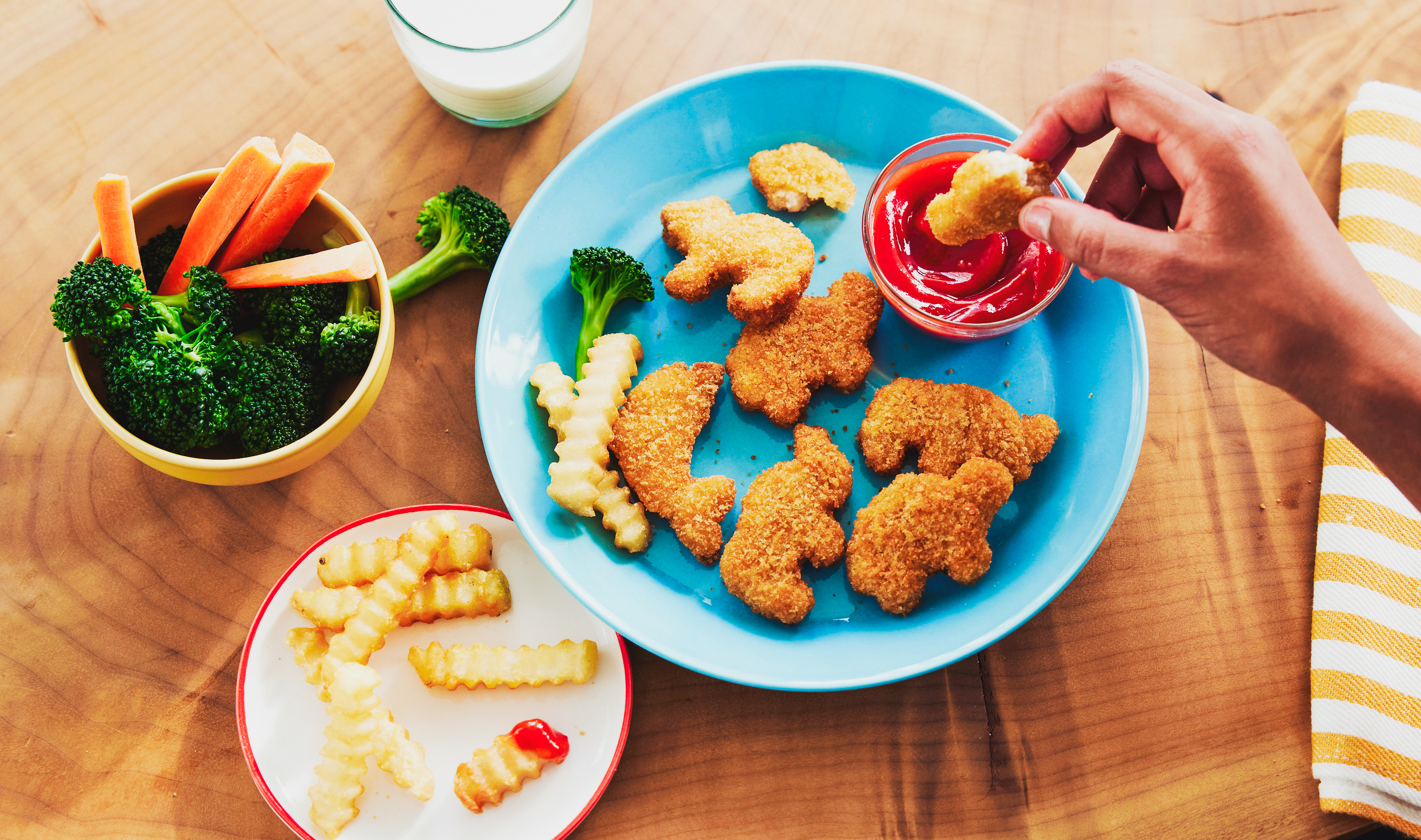 impossible foods
Impossible foods are being launched in schools
Last year, Impossible Foods became certified for school lunches for the Impossible Burger, followed by their sausage breakfast muffins. This includes obtaining a CN label—a USDA accreditation—which permits the serving of whole grain produce, both pancakes and bulk, for breakfast and lunch at K-12 schools nationwide.
At the time, Impossible Foods launched a pilot program in school districts nationwide and donated cases of vegetarian meat products to these districts to allow them to create innovative dishes for students, such as Impossible Street Tacos, Impossible Frito Pie, and Spaghetti with Impossible Meat Sauce. Students provided feedback on these options through surveys to assess the success of the pilot.
Currently, nearly 500 schools across the United States already serve Impossible Sausage and Impossible Beef breakfast pies, and five of the nation's 10 largest school districts have expressed interest in displaying Impossible Foods in their cafeterias.
"The new fully cooked Impossible Burger patty and whole rusk nuggets make it easier for school kitchens to provide better vegetarian meals for students and the environment," Kleiman said. "A nutritious food is critical to a child's development, but it doesn't have to come at the expense of good tasting or the future of our planet."
For the latest botanical news, read:
Vegetarian meat can tackle climate change better than electric cars
America's Youngest Yogi Just Opened A Vegan Food Truck
Sophia's famous lasagna turns vegan at the "Golden Girls" pop-up party in Beverly Hills
Happy birthday, VegNews! To celebrate, we've got huge subscription discounts – complete with incredible vegan prizes.
check it out
Happy birthday, VegNews! To celebrate, we've got huge subscription discounts – complete with incredible vegan prizes.
check it out